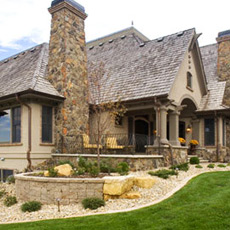 Are you thinking of selling your home this spring? Spring is the best time to sell your home. With warmer weather, longer days, and the need to get settled in before school starts again in the fall, home buying surges in the spring - usually peaking around June - and everyone sees your home from the outside first.

We've all seen them. Potential home buyers, driving by slowly, peering through their car windows. They are looking at properties contemplating on whether or not to follow up with an appointment or attend an open house. Are you making the impression you want?

By addressing and stepping up your curb appeal, you have the opportunity to influence how potential buyers feel about your home - even before they step inside. While many people spend time decluttering and staging the inside of their homes, nothing says neglect like an overgrown, unattended landscape.

Did you know studies show that you can add as much as 10% value to your home by taking time to seriously address your curb appeal?
That's why it's important to plan ahead. The best time to start cleaning up your yard is at least one month before you plan to show your home. This way, you give yourself enough time to make sure everything looks just right. You don't want to give the impression that you put things together at the last minute.
If you're ready to step up your curb appeal, the following five tips will help you ...