Add warmth and enhance your home's outdoor space with our custom or kit fire pits and fireplaces in Des Moines, West Des Moines, Ankeny, and nearby central Iowa locations.
We will expand your home's living space with an additional area for entertaining by designing and installing a fireplace, fire pit, or fire ring.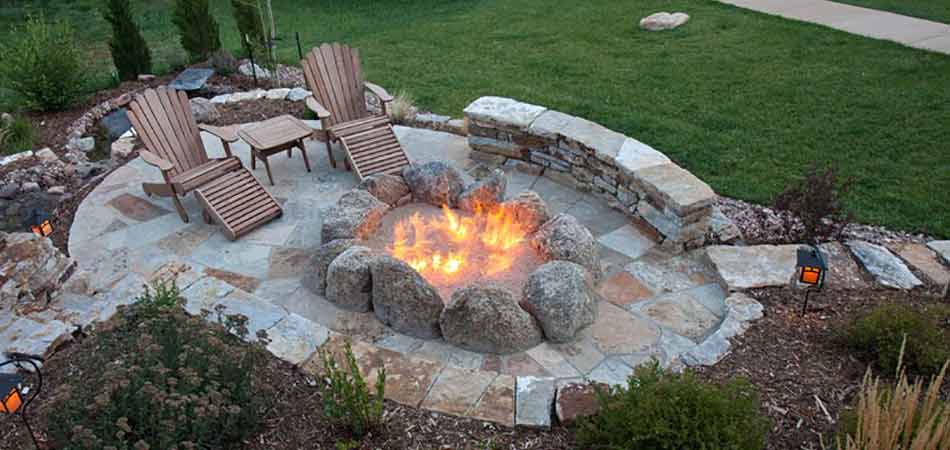 The professionals at A+ Lawn & Landscape are experts in the design and installation of fire pits, fire rings, and fireplaces. Our service begins with your vision. Together we will develop a concept focused upon creating an outdoor space that is tasteful, functional, and appealing. You can choose to build your fire feature using a pre-designed kit or completely customizing it!
Adding an outdoor fire pit or fireplace is an easy way to expand your home's living space and provide an additional area for entertaining. These elements serve as natural gathering places for guests during parties and other social events. And, with a 60-degree average low temperature for 75% of the year, a custom fireplace or fire pit can add functionality to your enjoyment by providing warmth.
We are familiar with a wide range of design and construction options being utilized in the central Iowa cities of Des Moines, West Des Moines, Ankeny, as well as surrounding locations.
---
You can choose a pre-designed kit or a completely customized design!
We understand the importance of a great design. We create fire pits and fireplaces that match your home's feel and external architecture. Building materials, size, shape, and color are considerations that all play a critical role in the final design and product we create for you. Our team has many pre-made kit options for you to choose from. If you have a specific dream fire feature in mind and you'd like to design everything from scratch, we can help with that too!
---
Common Shapes & Ideal Sizes for Fire Elements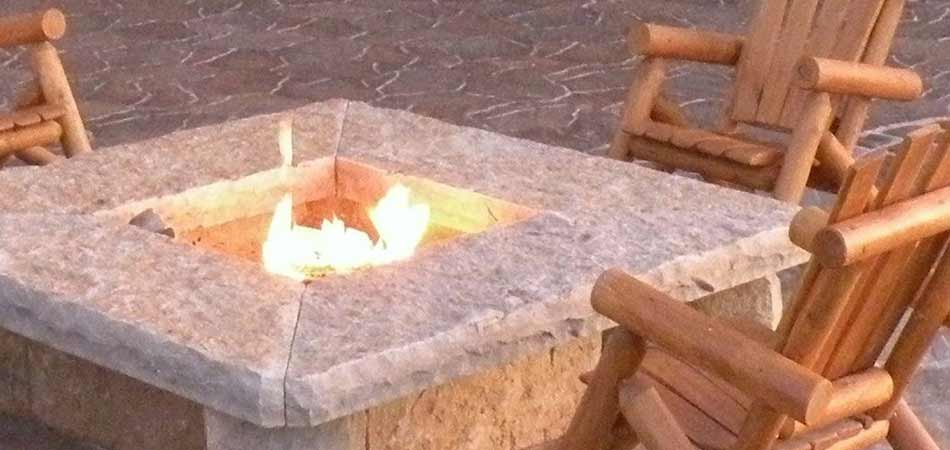 Our fire features can be created to your individual specifications and the array of design options is limited only by your imagination. Our clients often choose round or rectangular fire features, but we can work with you if you have another shape in mind!
The size of your fire element will be dictated by the space available as well as your personal wishes. Typically, smaller fire features (around three feet in diameter) are ideal for creating small and cozy spaces. Larger features (around six feet in diameter or greater) are more attractive for entertaining and for use with larger groups of guests.
Size and shape also impact features that are internal to the fire element. For example, various shapes and sizes can accommodate double or triple burner rings, which create more flame if this is desired.
---
Available Material Choices
There is a wide variety of materials available, which can be used in the construction process. Choices include:
Masonry block
Decorative brick
Pavers
Slate
Stone
Stucco
Tile
Metals
We can install both wood-burning and gas-burning fire features!
---
Colors and Materials Typically Used for Fire Pits & Fireplaces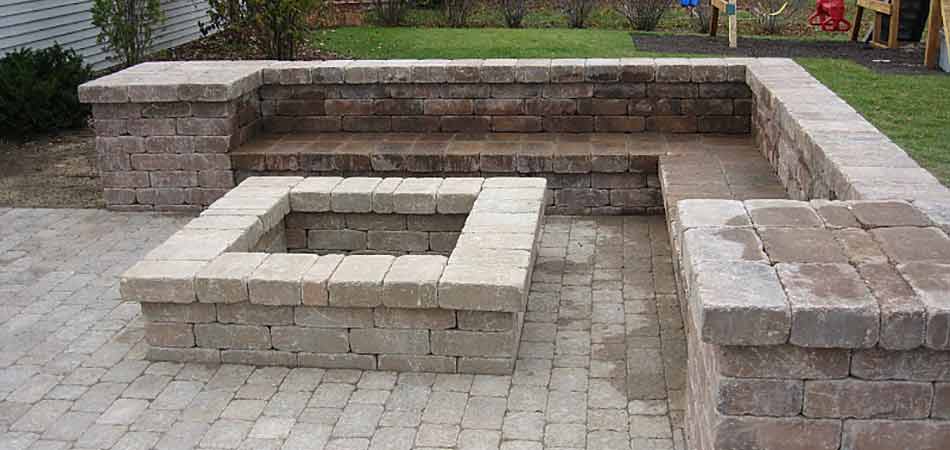 The choice of materials often influences color. Stone products are typically gray, brown or cream in hue. Brick pavers provide reddish tones. Metal finishes are commonly black. Color is an important factor and should fit into the context of your home's exterior. As design experts, we will understand your desires and work together to create your vision.
Our design experts are excited about speaking with you and assisting in developing the perfect fire pit or fireplace which compliments the external architecture of your home. We will guide you in considering materials, size, shape, and the many other factors necessary for a successful outcome.
---
Call us today for a free fire pit or fireplace consultation.
A fire feature will add charm to your outdoor space. These elements provide lasting enjoyment and warmth for your family and friends. Browse our gallery if you wish. We create outdoor fire elements in Des Moines, West Des Moines, Ankeny, and nearby central Iowa locations.
Call us at (515) 289-2020 so we can discuss your ideas during a free consultation.
---
Recent Fire Pits & Fireplaces Articles
Read more fire pits and fireplaces articles on our blog.