Spruce Needle Cast Treatment in Des Moines, IA & Nearby Areas Like West Des Moines & Ankeny
We've been helping property owners attain healthy landscapes since 1988!
If you have spruce trees, you've likely heard of spruce needle cast, and may even be struggling with it now – but struggle no more! Our comprehensive treatment will kick this disease to the curb so we can focus on restoring your tree's health. The best treatment method is to protect the unaffected needles of your spruce tree with a foliar fungicide that will prevent the spread of spruce needle cast. Our team will clean up all the dropped needles while we're present to reduce the chances of reinfection as well. We can promote new, healthy growth to replace needles lost to the disease with fertilization to jumpstart your tree's recovery!
If you're in Des Moines, West Des Moines, Ankeny or a surrounding area in Iowa, our team is ready to assist you with achieving a healthy landscape, so call us at (515) 289-2020 today to schedule!
---
Treatment involves a thorough application of a foliar fungicide to eradicate spruce needle cast.
Needles affected by spruce needle cast will turn brown or dark purple and eventually drop off the tree, but as long as they're still around other needles, the disease will rage on. Our foliar fungicide treatment will be applied to any unaffected foliage to help put a stop to the disease's spread! It'll also knock out any of the fungi that the healthy needles come into contact with after application while the fungicide is still in effect, thus further protecting your trees from the spread of infection.
We use only the highest quality products with thorough application to ensure that we're producing the best results for you and your trees.
---
We'll remove any needles affected by spruce needle cast at the time of treatment.
We'll clean up all of the dropped needles present at the time of our treatment and remove any that are diseased but still in the tree to give you a headstart. Some needles may continue to drop while the treatment takes effect until the spruce needle cast disease is completely wiped out, so it's essential for the homeowner to help keep an eye on this and remove any additional fallen needles to prevent reinfection. With our initial comprehensive sweep and some ongoing care to make sure no infected needles are hanging around, your spruce tree will be on the road to recovery in no time!
---
Recovery can be jumpstarted with a fertilization treatment to promote new growth.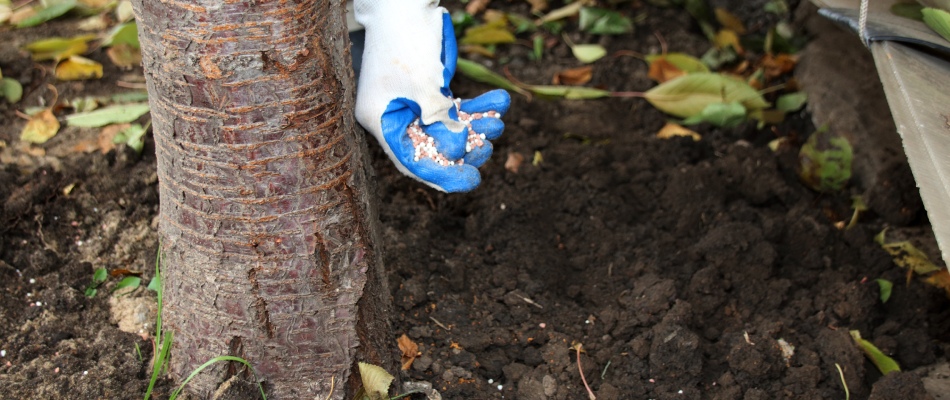 After our curative treatment for spruce needle cast, it's time to turn an attentive eye to recovery. Our team will assess the extent of the damage on your tree and make a recommendation for how best to move forward, often involving fertilization. We can apply a fertilizer treatment that rejuvenates your tree with nutrients that it sorely needs like nitrogen, phosphorus, and potassium. This influx of resources will promote new, healthy growth that will replace the needles lost to the disease and jumpstart your tree's recovery!
---
Call us to schedule your spruce needle cast treatment today and save your tree from devastation!
With 35 years of experience in providing best-in-class lawn and landscape services, there's no better option than our team at A+ Lawn & Landscape. Our services have been hand-crafted to suit the needs of landscapes in Des Moines, IA and nearby cities like West Des Moines and Ankeny. If you're dealing with a spruce needle cast infestation issue right now, you've found the solution! Call us at (515) 289-2020 today to schedule your treatment so we can get your spruce tree back on the track for health and happiness.