Take care of your lawn with routine fertilization treatments for your residential or commercial property in Des Moines, West Des Moines, Ankeny or surrounding central Iowa areas.
We use specifically blended fertilizer formulas to stimulate your soil to grow healthy grass.
At A+ Lawn & Landscape, our fertilization program is a routine that is divided into six distinct treatments applied to your lawn from mid-March through early December. Proper fertilization begins with using top-of-the-line fertilizers in specifically blended formulas that stimulate your soil to grow strong, healthy grass.
We work across the central Iowa area covering residential and commercial properties in Des Moines, West Des Moines, and Ankeny.
---
Our Method of Dispersing Fertilizer & When Ongoing Treatments Take Place
We apply our fertilizer at the same time as your weed control. This method is a quick way of both protecting and enhancing your lawn. Depending on the time of the year, we'll either apply pre- or post-emergent weed control treatments as well as your fertilizer application.
Our applications start in mid-March to mid-April and run through mid-October to early December. Ongoing treatments are vital to the health and continuity of your lawn's growth.
---
How Fertilizer Is Formulated & The Requirements of Newly Established Lawns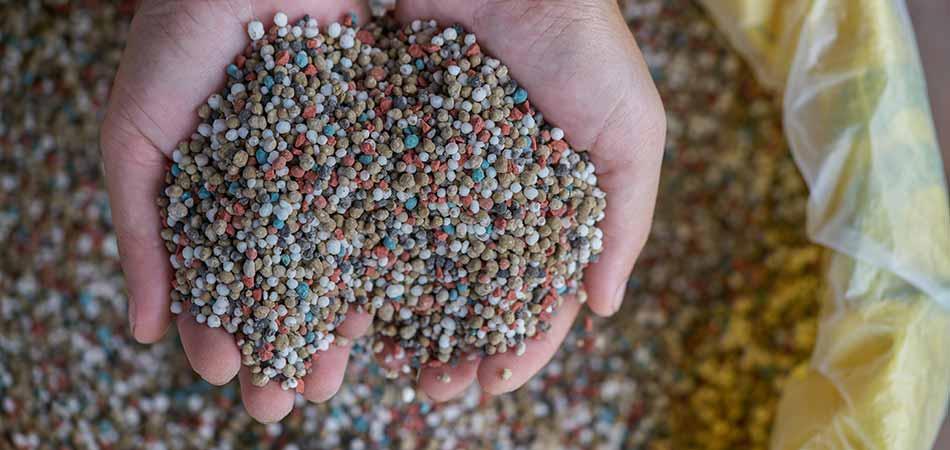 Most standard fertilizers offer a ratio of 1-0-1 of nitrogen, phosphorus, and potassium (NPK), and come in options such as slow-release and fast-release fertilizers. Each lawn requires a different formulation of nutrients, which is where soil testing can greatly benefit how your lawn is treated on an annual basis.
Cool-season grasses like the types we have in central Iowa typically thrive under slow-release, nitrogen-based fertilizers.
Newly established lawns require a different mix of nitrogen, phosphorus, and potassium. Starter fertilizer is always used for the initial application on newly planted seeds or new sod. This fertilizer is typically phosphorus-based to promote the germination of the new seedlings. After this initial application, standard fertilizer is used going forward.
---
The Benefits of Fertilizing Your Lawn on a Regular Basis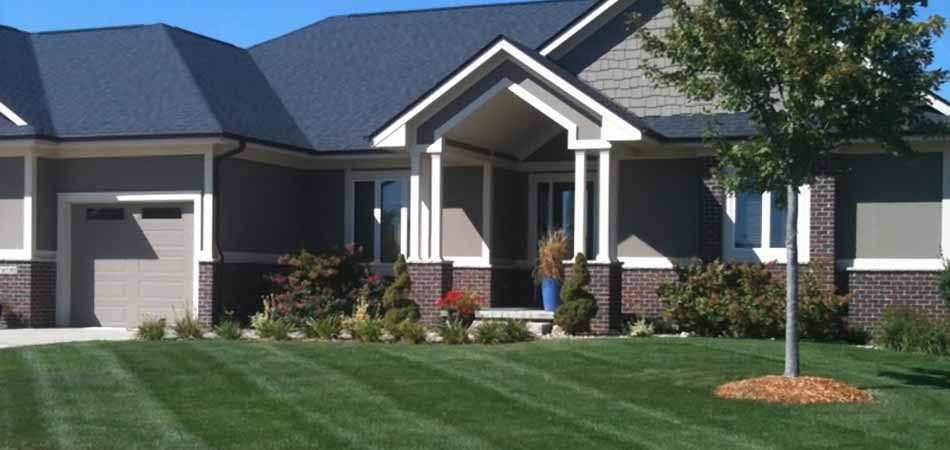 For properties in Des Moines, West Des Moines, and Ankeny, IA, fertilizing on a regular basis is the key to maintaining a healthy, hearty lawn. Continual fertilization treatments help promote and maintain grass that is thick, resistant, and able to withstand environmental conditions.
Healthy lawns are able to bounce back quicker from insect infestation or diseases and are even able to resist these afflictions easier than an untreated lawn. Your grass will be able to grow stronger roots with the help of the added nutrients in the soil.
---
Call for a quote on fertilization application services.
The best benefit of all with fertilization is maintaining a lawn that is the envy of your neighbors! The lush, green grass lends a desirable curb appeal and benefit to your home. Customers will see a difference in as little as a year from the start of fertilization applications. Our lawn care program will help you keep up with your lawn on an annual basis.
Call us today at (515) 777-7846 for a quote on fertilization services for your lawn today! We serve Des Moines, West Des Moines, and Ankeny along with other nearby communities in central Iowa.
---
Recent Fertilization Articles
Read more fertilization articles on our blog.