Determine if a 2D or 3D Design is More Ideal For Your Project
The factors that will ultimately help you decide whether you're better off with a 2D or 3D landscape design are time, cost, and desired level of detail.
Design renderings can be presented by landscape companies in either two-dimensional (2D) or three-dimensional (3D) formats and there are clear differences between the two as far as time, cost, and precision are concerned. Which option is right for you?
The design process is the most critical part of transforming or renovating your property when using landscape services. Landscape design renderings can be presented in either 2D or 3D form. The 2D layout is the traditional form of presenting landscape designs and is the more expeditious option. However, ideas rendered with a 3D design are more precise and fully capture the detail and layout of your landscape design using state of the art technological software.
If you live in the Des Moines, West Des Moines, or Ankeny, IA area, use this helpful guide to compare and contrast the differences between 2D and 3D design to see which option is more ideal for your landscape project.
---
When it Comes to Cost and Time: 2D Wins
For homeowners who are trying to quickly get through a landscape project, a 2D design is the better option. Two-dimensional designs only display the overhead view of projects which takes less time to develop than a 3D rendering. A 2D design illustrates the overall floorplan of the property using an aerial view and utilizes photos to depict plants and hardscaping textures, but it isn't able to envision other significant angles of the property. Having your design generated in 3D form allows you to view multiple angles of the design which ensures maximum accuracy.
A 2D design is initially the most cost-efficient option if there are no changes that need to be made to the finished project. Generating a 3D design is a bit more expensive but the visual design results are immensely more specific and detailed due to the additional capabilities that landscaping software offers.
---
Realistic Depiction: 3D Wins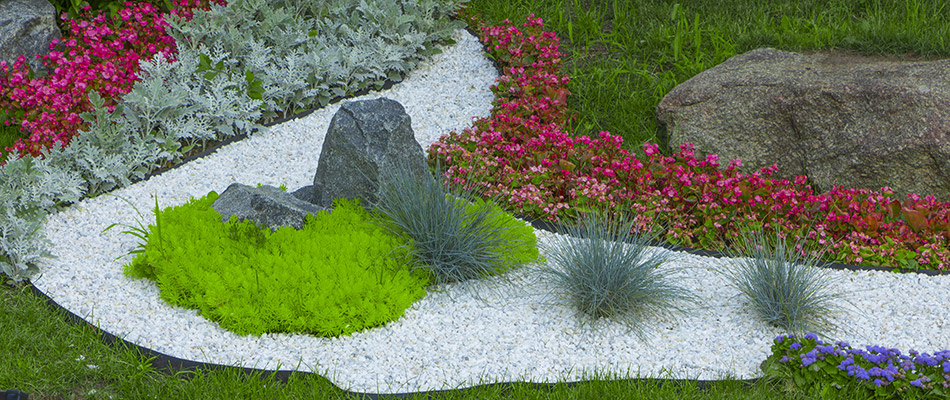 Innovative 3D landscaping computer software mimics colors and textures while implementing the use of various angles to create a more realistic depiction of what your new space would look like.
Here are some of the advantages for homeowners who choose a 3D design rendering:
The ability to do a virtual flyover and see the property from a bird's eye view
Options to see a day or night version of your property which is great for homeowners who are having outdoor lighting installed
The convenience of being able to work one on one with a designer and make spot adjustments, such as lighter-colored pavers or taller plants
Convenient sound effects of new water features
View of softscaping plantings once the plants reach maturity
3D design renderings give clients access to virtual walkthrough tours that provide realistic outside views of what your home would actually look like.
---
Use Cases: Both 2D &3D Designs Have Essential Purposes
In the great scheme of things, both 2D and 3D designs are important in the landscape design process. The 2D design is essential to schematics which are used by contractors and engineers to install and complete the project.
However, the 3D design is the quintessential option for homeowners and clients because of its ability to accurately depict the newly remodeled home and landscape.
---
Visualize Your Landscape Transformation through 2D or 3D Design Today
Our team has over 30 years of experience in designing and installing stunning home renovations and landscaping projects. Let our company bring your landscape designs to life with a 2D blueprint or cutting-edge 3D design rendering. If you live in the Des Moines, West Des Moines, or Ankeny, IA area, give us a call now at (515) 289-2020 to get started on your property's landscape design!