Located in central Iowa communities in and around Des Moines, West Des Moines, or Ankeny? Our sharp-n-lube services will get your mower ready for the season!
Our annual sharp-n-lube service is a 12-point mower service we can do at your home before the first mow of the season.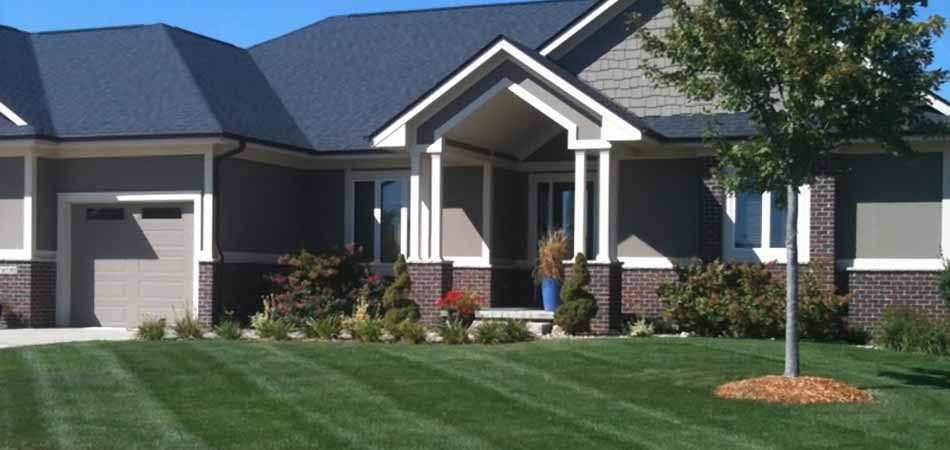 Caring for your lawnmower is essential to performing a good cut on your lawn. If you are practicing your own routine lawn mowing, consider an annual sharp-n-lube service from us! At A+ Lawn & Landscape, we perform a 12-point mower service right at your home to make sure your mower is good to go for the season. The best part? We'll come to your property!
The best time to hire us for a sharp-n-lube is before the first mow of the season or during early spring. Get your lawnmower in prime working condition before you start regularly mowing your lawn. We perform 12-point mower services across central Iowa in communities such as Des Moines, West Des Moines, and Ankeny.
---
What Is Included in Our 12-Point Mower Service
The whole goal of providing our sharp-n-lube service is to make sure your lawnmower stays tuned up and efficient all season long. We encourage local DIY mowers to make an appointment and take advantage of our 12-point mower service so your lawnmower is in top condition.
Our entire service includes the following:
Clean the engine - We clean the exterior of the engine.
Change the oil - Changing and monitoring the levels on your tractor's oil is important. Oil should be checked for floating debris or oil that is dark black in color. This should be immediately changed. Changing oil frequently is necessary for a well-working mower.
Check the tires for pressure - Tire pressure is important for a mower to move easily over your lawn. We check and fill up the tires if needed.
Check the spark plug - To ensure your mower is working properly, the spark plug needs to be replaced on an annual basis. This is a fairly inexpensive and easy component to replace.
Clean the air filter - Your air filter can become easily clogged or dirty, which can cause your mower to burn gas less efficiently. The air filter is easy to access and should be replaced on a yearly basis for optimal mower performance.
Clean the upper and lower deck - We get your mower looking like new again by cleaning every inch of it.
Oil the wheels - Oiling the wheels helps your mower move more smoothly.
Grease the lube points - Greasing all the lube points on your mower helps it run smoothly and avoids added stress on the mower parts.
Balance, straighten, and sharpen blades - Mower blades can endure a lot of stress from rocks, branches, and other miscellaneous objects throughout your yard, making balancing, straightening, and sharpening them essential.
Check the belts for tension - We check belt tension to make sure your lawnmower is good to go and no loose belts will cause problems for you.
We can come to you! Just schedule a time for our team to show up at your property and we'll take care of the rest.
---
Call our expert technicians to make an appointment for a routine 12-point mower service.
Make sure your lawnmower is ready to tackle your grass for the next mowing season by investing in a routine 12-point mower service. At A+ Lawn & Landscape, we offer our service to the areas of Des Moines, West Des Moines, Ankeny, and other nearby central Iowa communities.
Call us now at (515) 289-2020, get a quote, and set up an appointment with one of our expert technicians!