Expert Lawn & Landscaping Services for Homes & Businesses in Adel, IA
Adel is a small city in central Iowa that sits right along the North Raccoon River. A truly historic town, Adel was officially incorporated in 1847 and takes the place of the oldest town in Dallas County. This charming city is known for having many unique shops and taverns that have been around for several decades. Everything from home decor, collectibles, and antique trinkets await you when you take a stroll through the town's square. Residents enjoy easy access to the North Raccoon River to take on exciting recreational activities like canoeing, fishing, and hiking.
There's something for everybody in this small town when it comes to shopping or exploring the great outdoors. Locals will be the first to tell you that they strive to maintain green lawns and gorgeous landscapes. We've helped them in their efforts by providing services like fertilization, annual flowers, hardscape installations, and more! We have what it takes to give you your dream lawn too!
---
Hardscape installations, landscaping, water features, and much more.
Don't stop at thoughtful design for just the interior of your home, let our team install a beautifully-designed landscape and outdoor living area for your property. Maybe you already have a landscape design and simply want to revamp it or you bought a new home and need an entirely new landscape, either way, we can help! Elements like patios and walkways add structure and functionality to your property.
Become the ultimate host by having a fire pit or outdoor fireplace installed in your backyard for winter gatherings and events. While you're at it, invest in a seating or retaining wall to add more room for guests to sit. If you've found your landscape to be a bit on the dull side, a water feature like a fountain or pond would create an outstanding focal point on your property. Highlight your landscaping with outdoor lighting to add the finishing touches to your landscape.
---
Lawn care includes services like fertilization, weed control, and aeration.
An adequate amount of nutrients, water, and protection from harmful insects is what your lawn needs to remain healthy. Our company doesn't just want your grass to be healthy, we want it to thrive! That's why we offer a 6-step fertilization program (organic program available) that ensures your turf is always properly nourished, paired with weed control, your lawn is able to put its best foot forward. Irrigation services like repairs, startups, and winterizations keep your sprinkler system working properly.
We offer services like aeration and overseeding to make sure those much-needed nutrients are always circulating while also thickening your lawn with more grass seeds. Soil testing allows our lawn care technicians to determine what nutrient your lawn is lacking as well as determining your soil pH level. Services like grub control and insect control protect your lawn from harmful insects that tear through your grass and its root system. We also take care of your landscape plants with our tree and shrub health program.
---
Routine maintenance services for your property include mowing, trimming, seasonal yard cleanups, and more.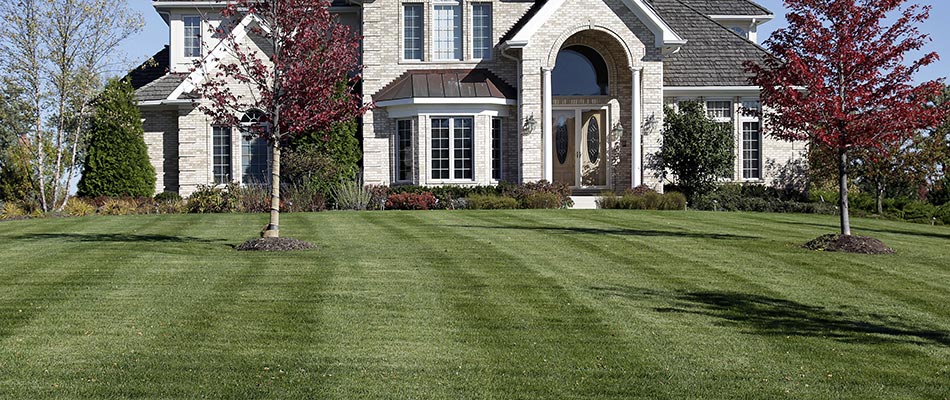 Nobody wants to be the eyesore on their block. Lawn maintenance services like mowing, edging, and string-trimming keep your grass properly cut and landscape edges neat. Landscape trimming and pruning ensure your larger plants remain neat and free of overgrown or dead branches. A mulch installation will protect your flowers and shrubs while refining your landscape design.
Your lawn can easily look unkempt after a leaf-filled autumn and heavy winter which is why we offer both spring cleanups and fall cleanups. Add an annual flower installation to bring some color and vibrancy to your landscape as the seasons change.
---
Additional services to further enhance your landscape.
Other services like mosquito control and flea & tick control make your outdoor living area more comfortable by keeping invasive pests away. Japanese beetles and mole & vole treatments prevent your lawn from being damaged and tore through. Our team can also perform general maintenance on your water features with our fountains and water treatments service. Holiday lighting and Sharp-N-Lube simply make it easier for you to keep your property in excellent condition.
---
Contact our team to schedule a lawn or landscape service today!
Let us take care of all of your lawn and landscape needs! Our team stays up to date with green industry methods and treatments to ensure we're always providing the best service possible. Call our team at (515) 289-2020 to schedule a service for your residential, commercial, or HOA property today!