Japanese beetle control services in Des Moines, Ankeny, and surrounding areas of central Iowa.
The Japanese beetle eats holes through the leaves and flowers of your landscape plants.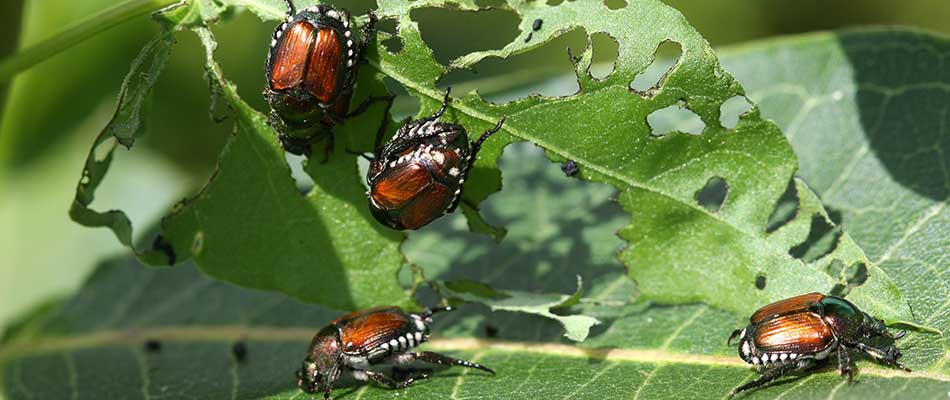 In late June through mid-July, Japanese beetles show up in our central Iowa area and begin attacking the leaves of your landscape plants, shrubs, and trees.
Keep these pests away from your landscaping with routine Japanese beetle control services. We apply treatments for residential and commercial properties in Des Moines, West Des Moines, Ankeny, and the nearby areas of central Iowa.
---
Identifying Japanese Beetles & When You May See Them in Your Landscaping Beds
This invasive species was brought over to the United States in the early 1900s and quickly took over, resisting large measures to control their population. The Japanese beetle is very distinctive-looking. Its iridescent blue-green color cannot be easily mistaken for any other beetle. They are about half an inch long, have copper colored wings, and small white hairs along their sides. You will usually see them in your landscape beds as they like to eat the leaves on the plants.Generally, they begin to emerge in late June through mid-July.
Japanese beetles are the adult form of the white grub, which causes catastrophic damage to all types of grasses.
---
How Japanese Beetles Damage Your Plants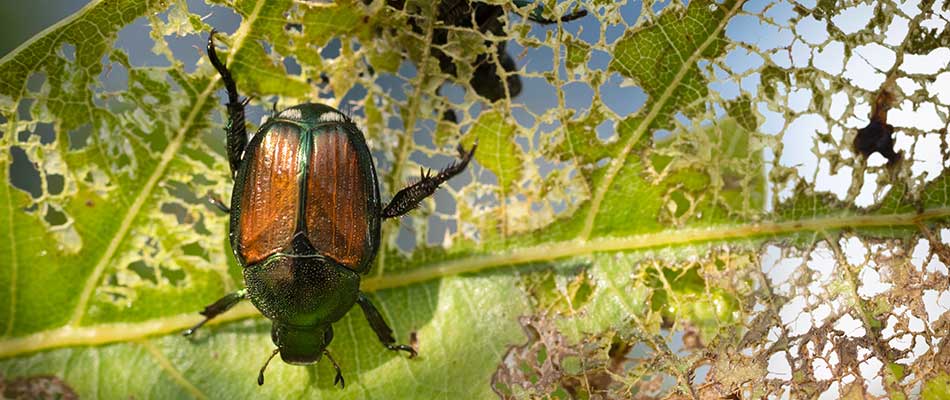 Once the beetles emerge as their adult selves, they begin to target the leaves on landscape plants, shrubs, and small trees. They eat holes in them, leaving the leaves to look "skeletonized" with just the stem and veins left behind. These beetles also love to eat flowers, destroying the beauty of your landscape beds in the process. They will eat just about any plant or tree, but are commonly attracted to plants such as:
Roses
Fruit trees
Hibiscus
Japanese maple
Raspberry
Birch
Crape myrtle
Geraniums
---
Ways to Prevent Them From Destroying Your Landscaping
The good news is that Japanese beetles (and their grubs) are preventable with the right treatments. They will require both preventative and curative applications in order to stop them from destroying your landscaping. At A+ Lawn & Landscape, our expert insect control providers use Bifenthrin to eliminate them. We spray this all over the foliage and if the beetles are already present, the spray will kill them on contact.
The treatment will be effective for about 30 days and we may recommend two treatments per season if you have an increased beetle presence. Combining this with our grub control services should help to ensure that these pests will not be bothering you, your landscape, or your lawn.
---
Are you seeing evidence of Japanese beetle damage on your landscape plants?
If your landscape is suffering from Japanese beetle damage and you see the evidence of their presence, you need to call in trained professionals to help. Our lawn care company provides these treatments throughout central Iowa to homes and businesses in Des Moines, Ankeny, West Des Moines, and surrounding communities. Contact us today at (515) 289-2020 to get an estimate.