We design and install custom ponds and other water features in Des Moines, West Des Moines, Ankeny, and other Central Iowa areas for businesses and residences.
Bubbling rocks, streams, and fountains are among the beautiful water features we can design and build to make a statement on your property.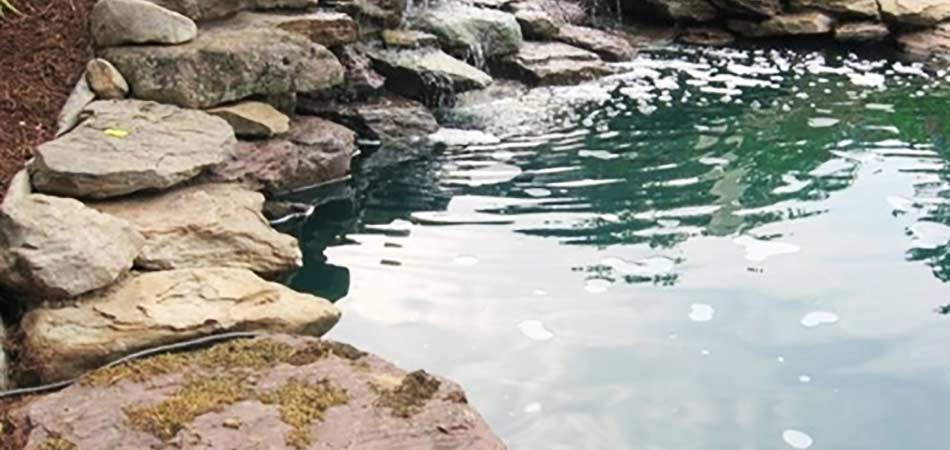 Ponds and water features are a popular way of adding a natural and beautiful hardscaping element to your property. They bring soothing sounds from bubbling rocks and streams to whooshing fountains that make for a relaxing environment. Well-designed water features entice the senses and bring life to your property.
At A+ Lawn & Landscape, we specialize in designing and installing custom ponds and water features across Central Iowa communities like Des Moines, West Des Moines, and Ankeny for both businesses and residences. If you want your landscaping to make a statement, add a custom water feature!
---
The Variety of Water Features We Can Expertly Install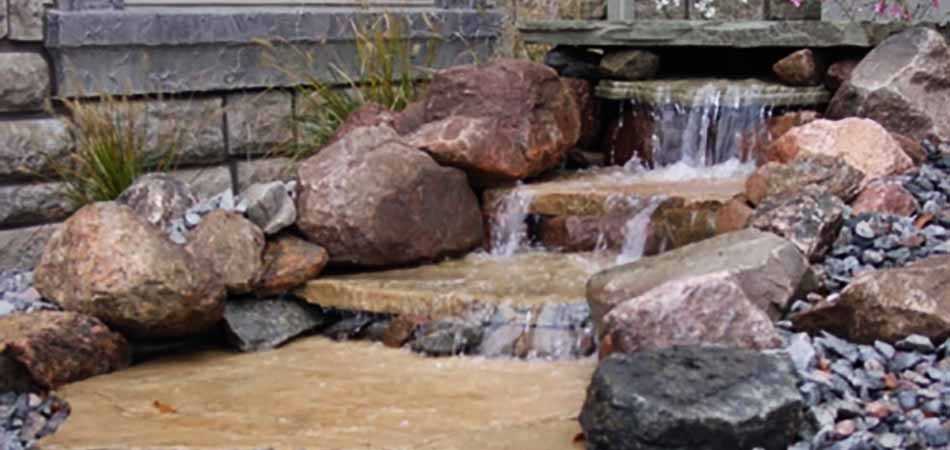 There are various types of water features available on the market for consumers. Making a decision on the type of water feature you want on your property boils down to size, materials, and the desired overall design aesthetic. We are experts in installing a variety of water features that can enhance your outdoor living experience for years to come!
Bubbling Rocks
This small water feature is a great option for homeowners who are on a budget but still want to enjoy the peace and tranquility that water features bring to their backyard. Operating costs are low and maintenance is easy for bubbling rocks. It is the perfect water feature that you can put anywhere on your property and still get all the benefits of soothing water sounds that a water feature can bring.
Water Gardens
Depending on the size and shape of your available property, water gardens make an excellent addition to your landscaping. Water gardens can be small potted areas or larger spaces with an in-ground pond. The larger the pond, the more available space there is for planting various aquatic plants.
Water gardens give you an opportunity to create a focal point for your yard and offer many options for customization. You can create either a still or active pond. Water gardens offer an exotic and peaceful atmosphere to your outdoor living space.
Active ponds can include fountains as an additional feature. However, most aquatic plants prefer still water.
Pondless Waterfall
Pondless waterfalls are one of the most popular water features. They are simply a re-circulating waterfall without a pond at the bottom. These features are low maintenance, and can naturally attract a variety of beautiful Central Iowa wildlife.
Both small and large spaces can be home for the soothing sounds of a pondless waterfall. They can be configured to be soft and serene or dramatic in look and sound, depending on the size and construction of the waterfall.
Fountains
Fountains range in size from extremely large and grandiose to petite. The available space, build materials, and design layout will determine the size of the fountain that you are able to have installed. Fountains make a great centerpiece to any outdoor design, in part because of the customization options available. Some customization options for fountains include:
Statues
LED lights
Sconces
Scuppers
Fountains are a classic and timeless water feature that can bring elegance to your landscaping if designed properly.
Streams
Streams require a large amount of open space for construction. Careful planning and designing are needed to integrate the stream into the current landscape. Streams are a great addition for nature lovers and those looking to turn their yard into an oasis.
Koi Ponds
Koi ponds are a unique water feature because they are more like a giant outdoor fish tank than they are a landscaping feature. Still, koi ponds add beauty and nature to your outdoor environment and give your yard a unique appearance.
Koi ponds require a good amount of space where you can dig as deep as 4-6' and at least 3' in width, if not larger. They are constructed straight down to deter predators and can be created to look more natural by added plants and stones around the perimeter of the pond.
Koi ponds should be well equipped with both filtration and aeration systems, and be easily accessible for regular feedings and cleanings.
---
Materials Available When Constructing Your Water Feature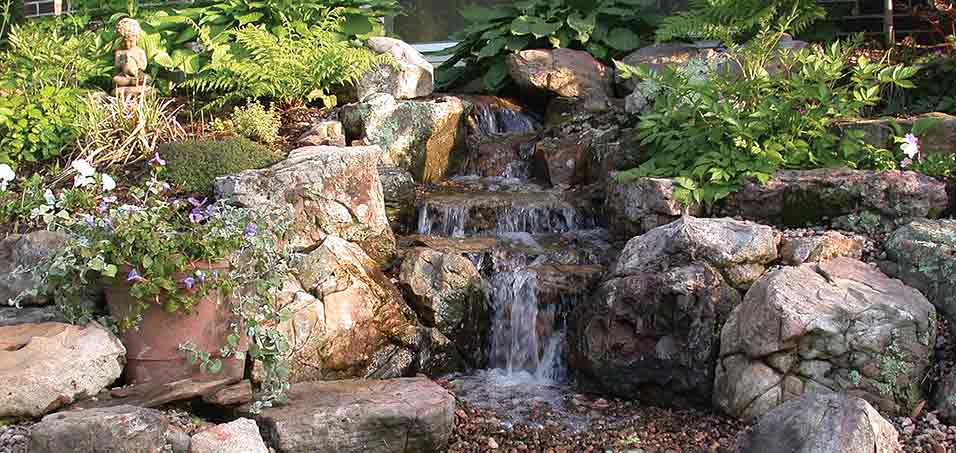 Many materials go into creating a water feature. Pond liners, which are available in either rigid and flexible materials, are necessary to establish the depth and size of a stream, koi pond or pondless waterfall.
To make your water feature look as natural as possible, a combination of large stones, river rocks, and small gravel is needed during construction. Aquatic plants are also necessary to integrate a natural water feature into the rest of your outdoor landscaping.
Most water features can be made using a combination of conventional landscaping materials, such as stone, concrete, and decorative stone. Additional materials that are unique to water feature construction include:
Ceramic
Metal
Fiberglass
Cast Stone
---
Benefits of Water Features
Are you considering a water feature for your property? They are a great way to introduce hardscaping into your overall design concept and can enhance the aesthetics of your yard. Some of the benefits of adding water features into your current or new landscaping design include:
Increasing the value of your property
Creating a natural ecosystem and attracts wildlife...perfect for nature lovers
Making a big impact on a small space
Reducing noise pollution
Soothing your senses
---
Contact us for a consultation on your expertly crafted custom pond or water feature.
Adding a water feature is a way to make your landscaping stand out and add a unique element to your front yard or back yard. Water features bring tranquility to your outdoor environment and provide entertainment for children and adults alike.
If you are ready to start having a custom pond or water feature designed and installed, contact us at (515) 289-2020. We work with businesses and residents in Des Moines, West Des Moines, Ankeny, and the surrounding Central Iowa areas to bring expertly crafted water features to your property.
Request a consultation and property walkthrough to begin designing your water feature today!