Commercial lawn and landscaping services for businesses in Des Moines, West Des Moines, and surrounding Iowa areas.
Give your business a more polished look with our comprehensive lawn and landscape services that improve the health of your lawn while also adding curb appeal to your property.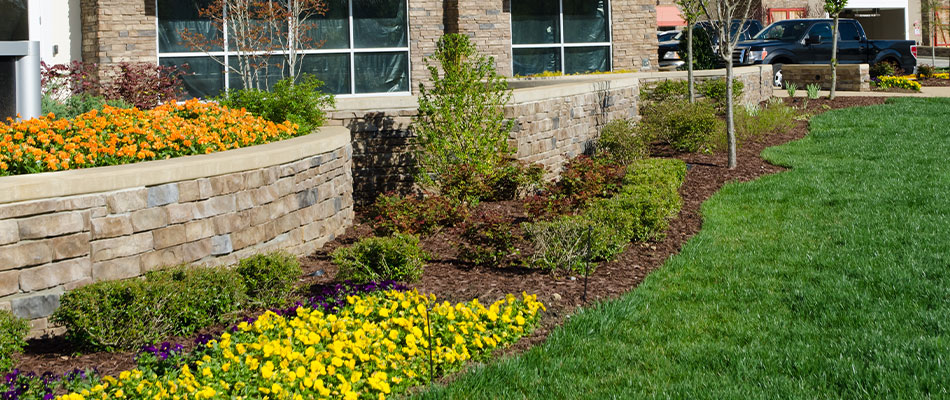 Improve your commercial property's exterior look with our extensive list of essential lawn care and landscape services. Our lawn and landscape services are customizable and tailored to meet the needs of your particular property. Impress your customers with a green lawn using effective fertilization, weed control treatments, aeration, and overseeding. We offer 25+ add-on services to further beautify your commercial property and increase your curb appeal.
As a client, you'll have full access to our skilled landscape designers who will develop a personalized lawn care plan and landscape layout for your Des Moines, West Des Moines, or Ankeny, IA property.
---
Our Comprehensive Commerical Lawn Care Program
Our comprehensive lawn care services are tailored to effectively supply nutrients to your property's lawn while also protecting against insects and lawn disease. We offer both organic and chemical-based treatments.
These commercial lawn care services are automatically included in your program:
Lawn Mowing- We'll keep your property looking nice and neat with routine mowing. Every lawn mowing visit includes string-trimming, edging, and blowing grass clippings away from your property.
Fertilization- Our fertilization treatments deliver key nutrients to your lawn to ensure maximum growth and defense against lawn insects and diseases.
Weed Control- We offer two types of weed control to keep weeds out of your lawn: preemergent (prevents weeds from growing) and post-emergent (attacks weeds that have already sprung).
Snow & Ice Removal- Our snow and ice removal services are provided all winter long and clear snow from your property's parking lot, entryway, and walkways.
We offer commercial property owners lawn care, landscaping, and maintenance programs to keep your property beautiful throughout the year.
Lawn Care Add-ons
Soil Testing- Routine soil testing allows experts to check nutrient levels, pH levels, and texture of soil to ensure any lawn issues aren't rooted in the health of the soil.
Aeration & Overseeding- Aeration is a technique we use so that nutrients can better penetrate the root system which is achieved by puncturing small holes into your lawn. Overseeding aids your lawn in achieving a thicker, healthier look.
Mole & Vole Treatment- Helps prevent unsightly mounds of dirt and plant damage due to moles and voles, using deterrents.
Insect Control- We provide seasonal insect treatments and infestation control treatments to rid your lawn of sod webworms, chinch bugs, and other pests.
Grub Control- Stop grubs from tearing up your lawn with our preventative and curative treatments.
Tree & Shrub Health- To ensure the health of your trees and shrubs, we conduct ongoing inspections and treat diseased shrubs and trees using selective pruning and fungicide.
---
Additional Commercial Lawn and Landscape Maintenance Service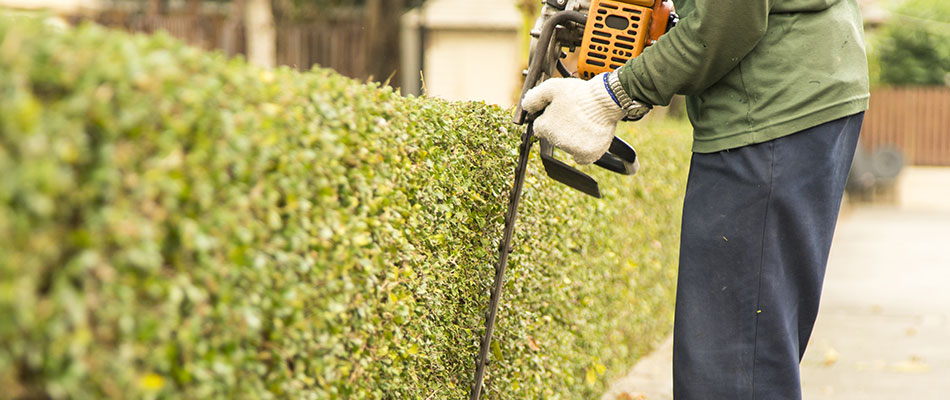 The outward appearance and features of your property's layout are significant factors that play a major part in customer perception. Complementing your lawn with proper maintenance and eye-pleasing softscapes like annual flowers and neatly-shaped bushes will add aesthetic appeal to your landscape.
Mulch Installation- Mulch protects your landscape plants from harsh weather conditions and gives your landscape a more refined look.
Trimming & Pruning- Routine trimming and pruning improve the health and appearance of your trees, hedges, and bushes.
Annual Flowers & Seasonal Color- Diversify your landscape in-between seasons with colorful plants and tropical flowers.
Spring Yard Cleanups- A spring cleanup will get your lawn in tip-top shape for the growing season and includes trimming, mulching, mowing, and more!
Fall Cleanups- Piles of dead leaves are unhealthy for your grass and plants. A Fall cleanup will remove those leaves and other debris found on your lawn.
---
Commercial Landscape and Hardscape Design and Installation
Hardscapes are advanced options that you can include in your landscape design such as walkways, raised planter beds, and water features. These are visual components aimed at improving your outward appearance because consumers often associate exterior presence with the quality of business.
Landscaping- Our landscape designers focus on balance and focal points when installing your softscape and hardscape elements.
Patios & Walkways- Choose from a variety of materials to build your patio and walkway with including pavers, brick, and flagstone.
Retaining & Seating Walls- Whether you're looking for a decorative or functional, a seating or retaining wall will nicely complement any landscape.
Water Features- Ponds, water fountains, and other unique water features create an eye-catching focal point for guests when visiting your business.
Outdoor Lighting- Properly highlight features and focal points within your landscape with professional outdoor lighting.
---
Give us a call now to begin customizing your commercial landscaping and lawn care program.
Your company has more important things to worry about than lawn care, so let the experts handle all of your commercial lawn and landscape needs. We've excelled in the landscape industry for over 30 years and pride ourselves on providing our customers with excellent service.
If your business is located in Des Moines, West Des Moines, Ankeny, or a neighboring city, call us at (515) 289-2020 to begin customizing your landscape and lawn care program!