Enhance your Des Moines, West Des Moines, Ankeny and other central Iowa area properties with custom designed and installed seating walls and retaining walls.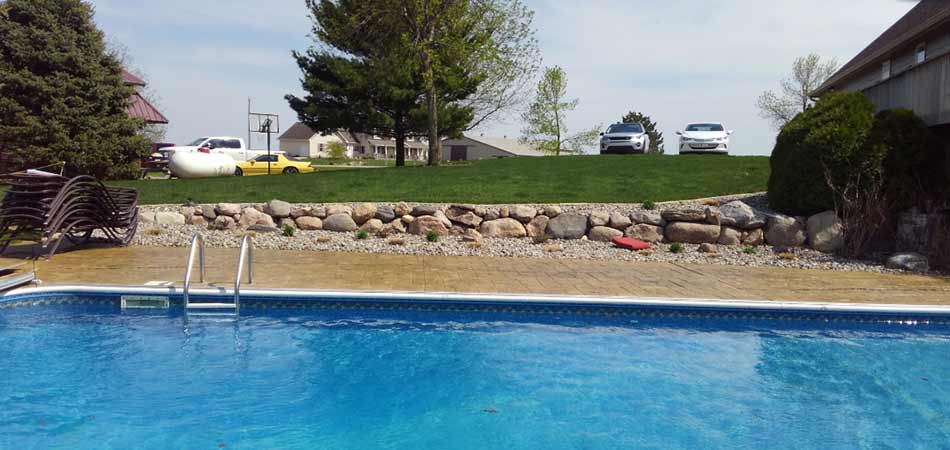 Retaining walls and seating walls offer your home a way of combining both form and function. They enhance your property in a unique and beautiful way. Retaining walls are commonly used as practical solutions to sloping or uneven turf in both residential and commercial landscapes while seating walls are often built to offer space for guests to sit around other hardscaping features, such as a fire pit, or to just sit together for conversation.
We custom design and install retaining walls and seating walls across the communities of Des Moines, West Des Moines, and Ankeny, IA.
---
What Are Benefits of Having a Retaining Wall Constructed on Your Property
Retaining walls are created to provide more usable space on your property. However, they provide more benefits than just a pretty landscaping feature. Retaining walls help redirect water and become a key component in providing your property with a flood prevention method.
At A+ Lawn & Landscape, we create leveled landscaping that becomes a focal point on your property. With the construction of retaining walls, we help prevent soil erosion and add strength to your property's natural elements.
Retaining walls add elevation and texture to your exteriors that can be utilized in creative ways to enhance your home's value.
---
The Double Purpose Seating Walls Serve
Seating walls are constructed much the same way as retaining walls. However, they are shorter and serve an altogether different purpose. We can add a seating wall around your outdoor kitchen, patio, or fire feature for a permanent, stable seating option. Seating walls can be constructed using all the same materials as retaining walls and can aesthetically complement the rest of your hardscaping.
Seating walls can also double as landscaping beds. You can have beds constructed on the ends of the bench or behind the seating area. At A+ Lawn & Landscape, we can follow the curve of your existing patio or design a custom seating wall to enhance your outdoor areas.
---
Concrete blocks and quarried limestone are popular retaining and seating wall materials.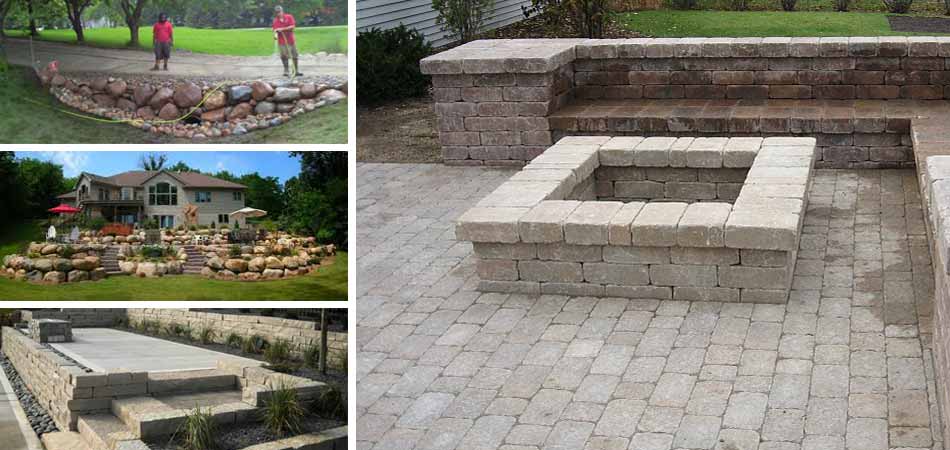 Depending on your style and the construction of your home, you are going to want your retaining wall or seating wall to complement your overall aesthetic. There are a number of materials that can be used to construct your new feature. Some popular materials that our customers often choose include:
Concrete Blocks: They offer a lot of flexibility and variety and are a durable, low-maintenance option for your building material.
Quarried Limestone: This classy and timeless look is durable and easy to maintain.
---
What is the Backer Board Construction Method
At A+ Lawn & Landscape, our main method of construction on your seating walls or retaining walls is to use stones on backer boards. Backer boards provide both strength and durability to your structure. This method is an affordable and efficient way of creating a structure that will stand strong for years.
First, the backer boards are put in place and the base is constructed. Next, we apply stone directly on the backer boards to create the rest of your retaining wall or seating wall. The added reinforcement ensures your structure is strong, while the stone brings out the beauty of your new construction.
---
Call us for a consultation on custom design and installation of retaining walls and seating walls.
Retaining walls and seating walls are very useful hardscaping elements that add contrast to your softscaping and enhance the overall appeal of your exterior living space. With the use of retaining walls, we can create a design that is unique to your property by using any slopes and uneven ground to our advantage.
Call us at (515) 289-2020 to get a consultation for your property. We are available for custom design and installation across central Iowa areas, including Des Moines, West Des Moines, and Ankeny.