Outdoor lights are anything but conventional - they don't have to just be for your porch! Instead, you can step outside the box. Custom outdoor lighting can highlight your curb appeal by drawing focus to your landscape's most beautiful attractions. It will also allow for great outdoor entertainment, no matter the time of day!
Along with the aesthetics, outdoor lighting can also keep you safe. Shed some light on your walkways so that you and your guests can clearly see the path and won't risk tripping. Outdoor lights will also deter unwanted guests - both humans and animals. Continue reading to learn more about the benefits of outdoor lighting and how it can be a great investment for you, your family, and your property!
---
Entertain at Night With Outdoor Lighting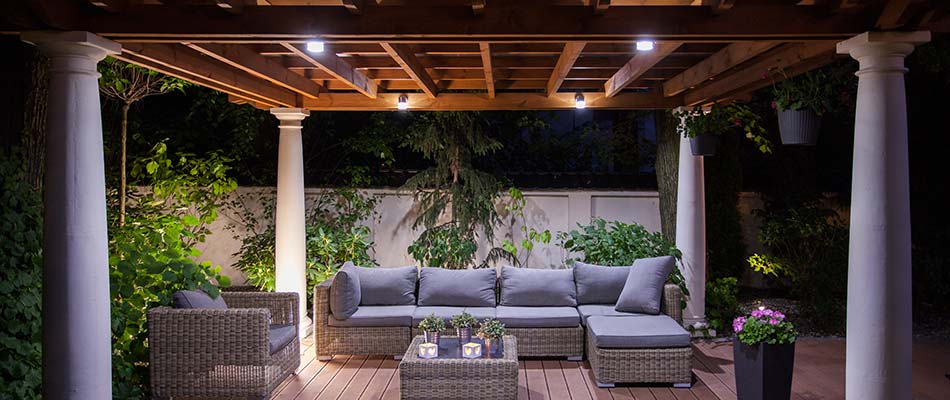 Adding the right lighting to your outdoor living space allows you to set the ambiance for your entertainment events. Bright task lighting can be added to your outdoor kitchen and dining areas so that you can focus on meal prep safely. It will also make for well-lit conversations with your guests while eating. Lowering the lights can give your evening functions a more calming ambiance. Whatever the occasion and no matter the time, the clock will be outmatched by your new luminous outdoor space!
---
Highlight Your Curb Appeal With the Right Techniques
You take pride in your home and landscape and all that you have put into it. Why not show it off with dynamic lighting? By implementing techniques like spotlighting, downlighting, path lighting, and uplighting, you will be able to show off your favorite outdoor features in several ways. Whether your desire is to highlight a striking tree or a quaint characteristic, a little added light will certainly do wonders for your curb appeal.
Most outdoor lights are energy-efficient, making them a practical way to improve the aesthetic of your property.
---
Outdoor Lighting Can Light Up Your Walkways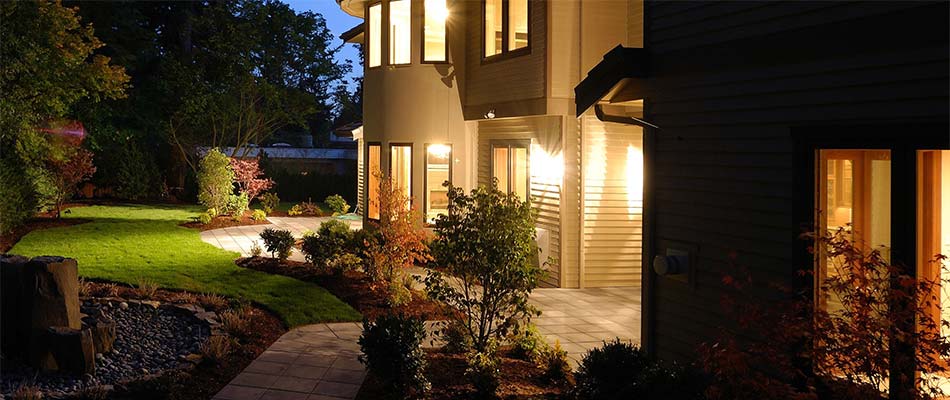 Most of us have a light at our entryways, but can you safely walk throughout your property without worrying about tripping? Installing lights along walkways, steps, and driveways will add an extra layer of safety for guests that come to and from your home after dark. Falls are more likely to happen after dark due to uneven spots in the walkway materials or pets crossing your path. The best way to protect yourself and your visitors from tripping is to install outdoor lighting so that everyone can clearly see where they are walking.
---
Deter Unwanted Guests with Outdoor Lighting
Strategically installing outdoor lights will make your home less inviting to unwanted guests. Choosing motion lights with sensors will turn on the light any time that it detects movement on your property, notifying you of any unusual activity that you might not have noticed before.
Burglars often go for easier targets and will most likely avoid homes that are well lit. Also, by installing adequate lighting around the perimeter of your home, you will deter animals like raccoons and deer. These animals are less likely to enter where there are lights.
---
You can transform your landscape with outdoor lighting. Reach out to our experts today to get started!
Outdoor lights are a stylish way to enhance your property. They have the ability to transform any landscape and enhance the true beauty of your home. At A+ Lawn & Landscape, our team can brighten up your landscape with outdoor lighting of all types. Our designers can help you choose the best techniques and placements to give you the best results. We proudly serve clients in Des Moines, West Des Moines, Ankeny, and several nearby communities in Iowa. Call our experts today at (515) 289-2020 to get an estimate on your outdoor lighting project.