With the need to go out after dark and feel safe, entertain guests at home, and enhance the aesthetic appeal of your lawn at night, outdoor lighting has become both a need and a luxury. Outdoor lighting fixtures come in many options, all of which can not only add beauty and safety to your property but also value to your home.
At A+ Lawn & Landscape, we install outdoor lighting in Des Moines, West Des Moines, Ankeny, and across communities in Iowa. Outdoor lights are the perfect solution to add a "wow" factor to your landscape, extend your activities for the day, and create a comfortable ambiance for you and your guests.
---
Outdoor Lighting Can Illuminate Your Pathways at Night
Darkened walkways and other foot traffic areas can create safety hazards. Obstacles like loose pavers, animals, and divets can be dangerous and cause a person to trip and fall. Protect your friends and family with proper outdoor lighting.
Path lighting is one great way to utilize outdoor lights as a safety feature. Path lights are set into walkways and steps; they provide direction or highlight where the steps are to prevent tripping.
In addition to path lighting, you could also utilize lamp posts and wall lights to illuminate your property to make it safer.
---
Outdoor Lighting Offers Security & Peace of Mind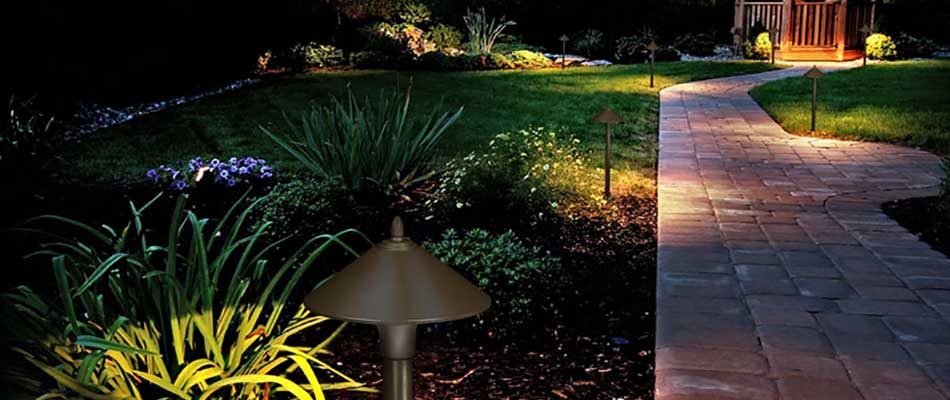 Keeping lights on around the yard, where human and wildlife threats can enter your property, will help keep your family safe and provide you with peace of mind. Outdoor lighting will help you see what's going on outside once the sun goes down. It could also deter intruders while you are away, tricking them into thinking that somebody is home.
Motion sensors are a good option for increasing the security of your property. These lights only turn on when they detect movement, meaning you're not only saving on your electric bill but you will also be alerted whenever any motion is detected on your property.
The placement of the outdoor security light is important to ensure visibility at night to the vulnerable parts of your property, like enclosed garages, entrances, and exits. These lights, such as high-intensity lamps, floodlights, and sodium-vapor lights, are typically very bright to ensure the safety of the areas they illuminate.
---
Outdoor Lighting Shows off Your Property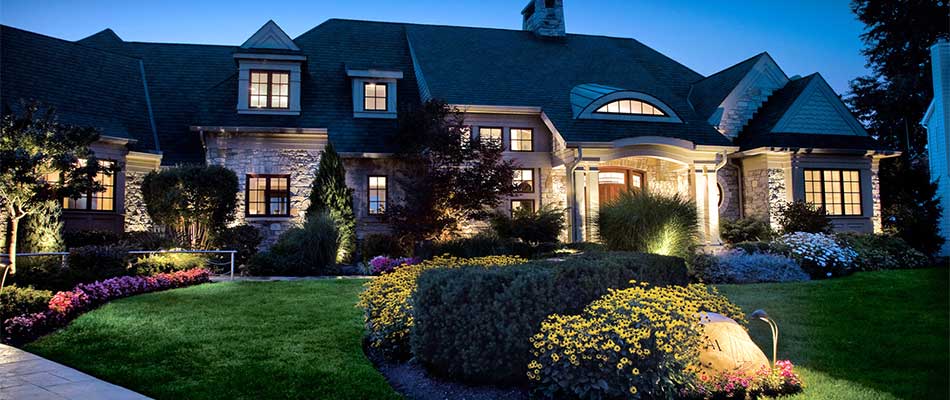 Outdoor lighting allows you to show off the work you put into making your landscape the best on the block. You can uplight trees, spotlight a favorite landscape element, add task lighting for an outdoor kitchen, hang string lights for a cozy ambiance, and many more techniques. The use of several different landscape lighting techniques will make your outdoor spaces a lot more appealing and versatile.
Uplighting
Uplighting is a type of accent lighting that highlights outdoor features, like trees and shrubs, from the ground by pointing the light upwards.
Task lighting
Task lighting provides extra light when performing a specific task, such as preparing barbecue in an outdoor kitchen or reading on a patio. This kind of lighting is placed right between the person and the object being illuminated and should not be too bright.
Ambient lighting
Ambient lighting (or general lighting) provides illumination for the rest of the living space. One example of ambient lighting is hanging string lights on your deck or patio, shrubs and tree branches, or walkways and entryways.
---
Illuminate your property with our outdoor lighting service. Reach out to our experts today!
Add safety, security, and ambiance to your property, all with your outdoor lighting fixtures. Outdoor lighting creates a safe and secure outdoor space that boosts your landscape's curb appeal, especially at nighttime. A professional outdoor lighting company like ours will know how to get you set up for your specific lighting needs, be it path lighting, security lighting, or landscape lighting.
At A+ Lawn & Landscape, our team can help brighten the darkened corners and strategically highlight the best features of your outdoor spaces with outdoor lighting. We recommend LED outdoor lights for a more energy-efficient living space. We proudly service the Des Moines, West Des Moines, and Ankeny, IA areas. Call us at (515) 289-2020 to get an estimate on your outdoor illumination project today!