Installing an irrigation system is the most convenient way to ensure your grass and plants are properly hydrated. They not only save you time and effort but they also promote water conservation. When deciding if an irrigation system is right for you and your lawn, there can be many questions that arise. We are here to answer as many of those questions as possible! From the best time to water your lawn in the summer to the overall cost to expect from installation, we tackle it all. Continue reading to learn the answers to those questions and more.
---
Can an irrigation system save water?
Absolutely! Irrigation systems save water through the timer that you will set for each zone. By setting the timer, you are also controlling the amount of water your irrigation system will release. To take water conservation to the next level, we recommend installing a drip irrigation system. This type of irrigation system will deliver the water directly to your roots. This will prevent runoff as well as water loss from evaporation.
---
What is drip irrigation?
Drip irrigation is one method of irrigation involving pipes placed right or under the soil surface to drip water right into the root source. This is considered to be one of the most effective water-saving methods to hydrate your landscape plants. With drip irrigation, water is not touching the leaves or evaporating under the sun.
Drip irrigation reduces the risk of fungus by only delivering water straight to your roots.
---
Do I need to have start-up and winterization services each year?
Yes, you need to get start-up and winterization services annually. Winterization is performed in late fall, while the startup happens during spring. Both processes protect your irrigation system and ensure it can survive different weather conditions.
Winterizing means preparing your irrigation system for the winter by turning off the main source of water. The system is winterized with compressed air, protecting your irrigation from freezing temperatures. This service is crucial to schedule every year, as it prevents water from freezing in your pipes and potentially damaging them.
Start-ups are performed after winterization for safe reactivation of your irrigation system. Maintenance checks are performed during start-ups to ensure there are no broken timers, rain sensors, and sprinkler heads.
---
Do I need to tell you where I want sprinklers?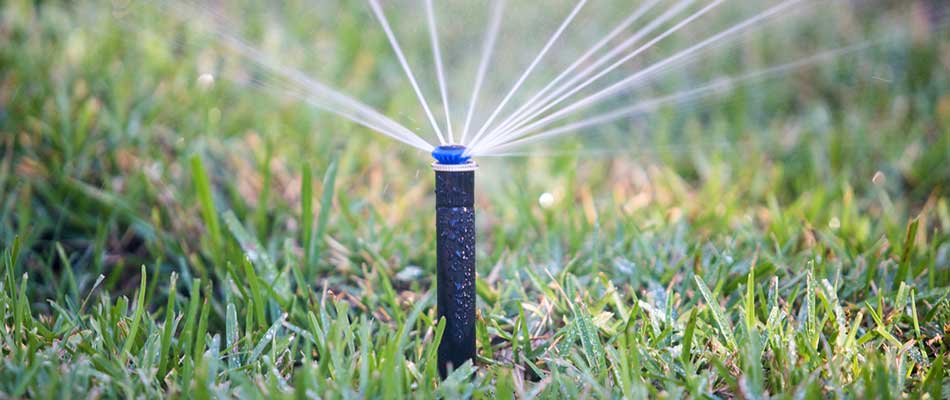 Our crew is trained and experienced in designing and installing irrigation systems, so you don't have to worry about the placement of sprinklers. However, it would help to tell us during the consultation the problem areas in your yard or where the plants with special water requirements are. This way, we can carefully and strategically plan the appropriate locations where sprinklers should be.
---
Why is this done in zones?
Irrigation systems are done in zones so you can water at different times. There might be some plants in your lawn that have varying watering needs, or a newly installed grass or seed that would need more attention. With zones, plants and seeds that require different amounts of water can receive their water needs without affecting other plants. The timers and controllers on your lawn's irrigation system are customizable and you can adjust them for different zones.
---
What's the best time of day to water in the summer?
When watering your lawn in the summer, we recommend that you check your area's water consumption and usage regulations. Lawns in Iowa are best watered in the morning after sunrise until before 10:00 AM to reduce water loss due to evaporation.
You will use more water when you hydrate your lawn midday because heat will evaporate the water. When you hydrate your lawn in the evening, your grass and plants stay damp for too long because there is no sun to dry off the water. This might lead to problems like disease and fungus.
---
How much will a new system cost?
A six-zone system installed by A+ Lawn & Landscape will cost around $3,000. Our installation and design services are a good investment for your lawn because we ensure our services follow state standards as well as the standards our clients expect from us. Installing a lawn irrigation system will save you money, time, and resources in the long run.
---
We can install your lawn irrigation system for you. Talk to us today!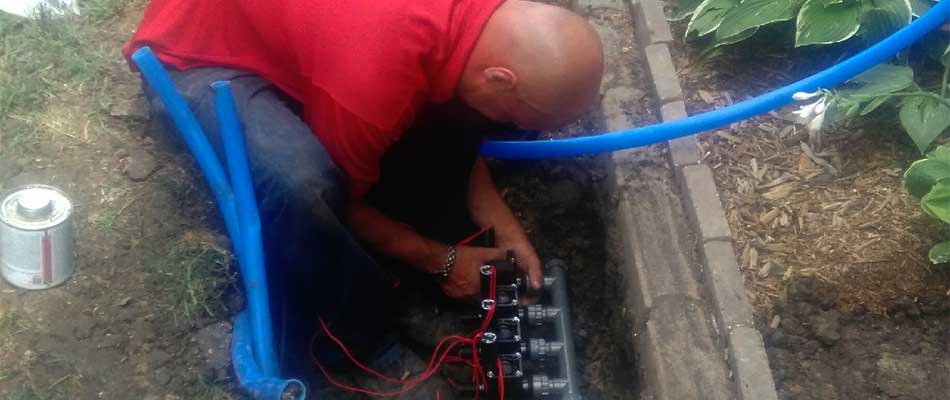 Our irrigation design and installation services at A+ Lawn & Landscape are what you need to water your lawn effectively and efficiently. Our team of certified technicians deliver top-notch services with quality materials.
We provide irrigation system design and build services, winterizations, start-ups, and maintenance for properties located in Des Moines, West Des Moines, Ankeny, IA and surrounding areas. Call us today at (515) 289-2020 for an estimate.