An outdoor fireplace is a great addition to properties in the Des Moines, IA area for several reasons. They liven up outdoor spaces and will become a focal point on your property. They also help you stay warm during chilly weather. Plus, they can even increase the value of your property! And, they can be customized to suit your personal preferences and style! There's no reason to have a dull outdoor entertainment area when you can have a unique fireplace installed!
---
An outdoor fireplace is the statement piece your entertainment area needs.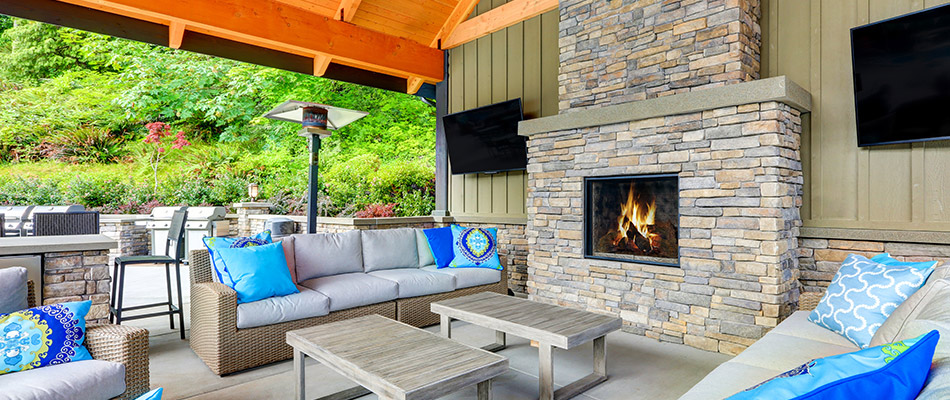 Is your outdoor living area lacking something special? If so, a custom fireplace is what you need! Outdoor fire features make wonderful statement pieces that catch the attention of guests. Your outdoor entertainment area will make a lasting impression with the addition of a fireplace.
But, fireplaces aren't just pretty - they are functional, too! If you like hosting parties or gatherings, an outdoor fireplace will improve the experience for everyone. A fire feature will keep your outdoor entertainment area well-lit and warm, allowing you to keep the party going long after the sun goes down. Your friends and family will love having a cozy fireplace to gather around!
---
An outdoor fireplace will increase the value of your property!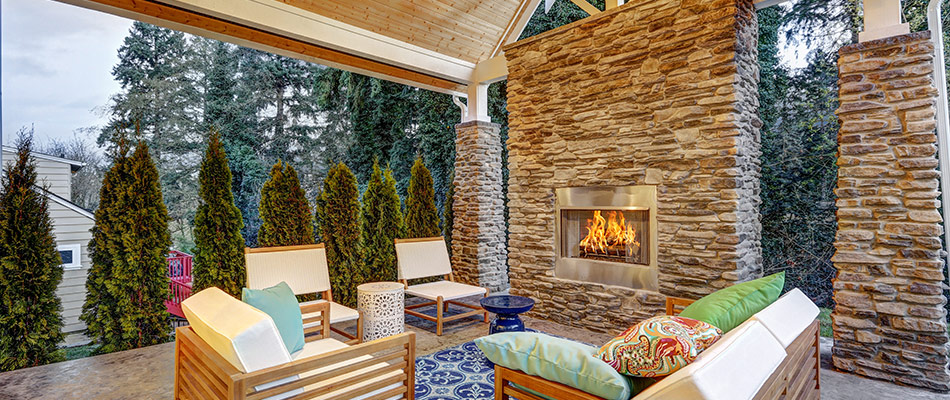 Not only is an outdoor fireplace a beautiful addition to your property, but it will also increase your property's value! Fireplaces improve the appearance of homes and make them more desirable. You care a lot about your home and likely want to get the most out of it now and in the future. By adding an outdoor fireplace to your property, you can rest easy knowing that you are making a good investment.
Outdoor fireplaces add value to commercial properties, too!
Outdoor fireplaces aren't just for homes, they are great for commercial properties, too! When you have an outdoor fireplace installed on your commercial property, you will also be adding to the overall value of your property. The look and feel of your company's physical location play a big part in your business dealings with your customers. Their first impression of your company will be partly determined by what they can see before even entering your building. Fireplaces are welcoming features that make people feel comfortable and relaxed. So, make sure you give your customers the right idea and impress them with a custom outdoor fireplace!
---
Outdoor fireplaces can be customized to meet your aesthetic preferences!
One of the great things about owning your property is the ability to make it look exactly the way you want. Investing in an outdoor fireplace is a great way to add your own personal touch to your property. Your vision for your perfect fireplace can become a reality! The color, size, and shape of your outdoor fireplace can be customized to meet your aesthetic preferences. Whether you want a large outdoor fireplace for entertaining lots of people or a smaller, cozier fireplace - it can be yours!
Some common materials that outdoor fireplaces can be constructed with include brick, stone, metal, pavers, slate, and more.
---
Call us today to schedule a consultation for your outdoor fireplace!
A custom fireplace will be a wonderful addition to your outdoor area and it will also increase your property value, all while keeping you warm. We've been beautifying commercial and residential properties by installing customized outdoor fireplaces in Des Moines, West Des Moines, Ankeny, and other surrounding areas in Iowa for 35 years. Give us a call at (515) 289-2020 today to schedule a consultation.