Our clients in Des Moines, Iowa reached out to us when they decided that they needed an outdoor living space transformation. At the time, they had a largely overgrown backyard with only two outdoor lounge chairs for relaxation. Yet, there was a bunch of unutilized space! They wanted to transform their backyard that only accommodated two people into a backyard with plenty of room for hosting friends and family.
During this project, our team designed and installed many different hardscape and softscape features to tie everything together. The hardscapes included two patios, a walkway, a retaining wall, a beautiful koi pond, and an extravagant outdoor fireplace! We then added softscapes like landscape beds full of dark mulch and beautiful flowers to add natural pops of color. Continue reading below to find out how our team of experts took this two-person backyard and transformed it into a great, open oasis meant to enjoy with plenty of guests!
---
Getting Started With a 3D Design Rendering
Before we picked up any tools, we had to sit down with our clients and figure out exactly what they were hoping to get out of their new backyard. This first step is full of creativity and involves bouncing different ideas off of each other. Their original backyard had no sense of design structure, which almost made it easier for our clients to dream big about what they really wanted to incorporate in their new outdoor living space.
After deciding on the different hardscape and softscape features, our design team created a 3D rendering to give our clients an accurate depiction of what their backyard would look like in just a short time. After they signed off on it, our preparation and installation teams got to work.
---
Installing the Patio, Walkway, & Retaining Wall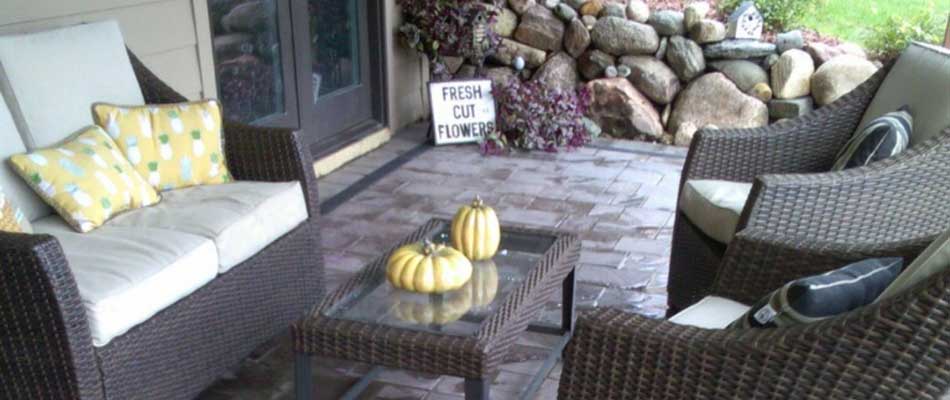 After the yard was fully prepped, we began installing the patio, walkways, and retaining wall. Our clients wanted two separate patios. The first patio served as the "main" area, located right outside of the back doors of the home. The second patio was a little bit smaller and off to the side, offering a more secluded and private area that fit only two chairs side-by-side. Both of the patios were made out of beautiful natural stone pavers and a charcoal-colored border.
Next, we added the walkway that connected the two patios as well as the outdoor fireplace that we would later be installing. This walkway matched the two patios perfectly, creating a cohesive feel throughout the whole backyard. The next hardscape we focused on was the retaining wall. On the side of the main patio was some raised turf and mulch. To prevent heavy rain from eroding them onto the patio, we added a retaining wall made of boulders. These boulders held back any erosion that might happen in the future while also adding a great statement piece to the backyard.
---
The Koi Pond Was Decorated with a Natural Stone Border
After the main hardscapes were in place, we could focus on the koi pond. Our clients wanted this small koi pond to be next to the main patio where most people would be so that their guests could fully enjoy the relaxing water feature. We decorated the border of this pond with light-colored natural stones. Around those natural stones was a layer of chocolate mulch, offering a great contrast between the light-colored stone border and the darker walkway.
---
We Used Stacked Stone for the Wood-Burning Fireplace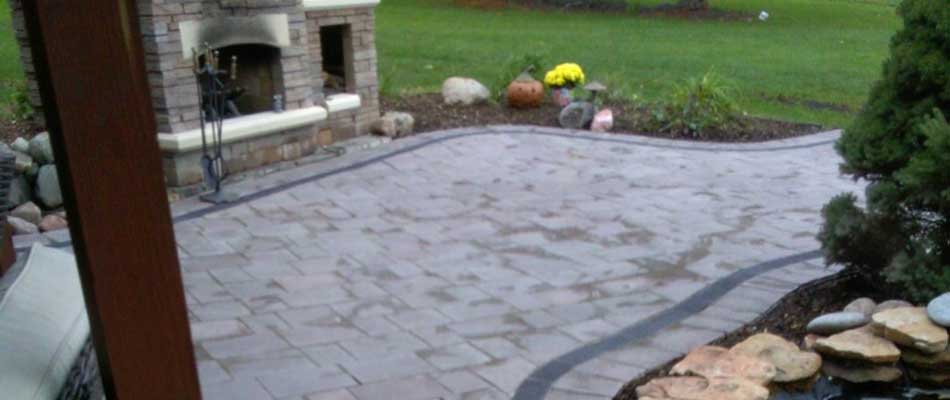 The last hardscape installation was the outdoor fireplace. Our clients wanted somewhere warm to cozy up to when the cool Des Moines weather begins to set in. The wood-burning fireplace allows our clients to sit back and relax while listening to the sounds of crackling wood. We made this fireplace out of stacked stone that had tones of grey in it to match the walkway and we left plenty of open room in front of it to accommodate house guests that want to get warm around the fire!
---
Flowers & Mulch Added Vibrant Color throughout the Yard
Last but certainly not least, we focused on the softscapes. Landscape beds were installed all throughout the backyard and filled with colorful flowers to add pops of color. We also potted some of these flowers to make them more of a statement piece to set along the retaining walls. The very last finishing touch was adding chocolate-colored mulch in all of the landscape beds that lined the yard.
---
Did you see something that caught your eye? Contact us today for your next landscape remodel project.
Our team was thrilled to design and install this new landscape for our clients in Des Moines. We loved being able to transform their backyard from a space that could only hold two people into a large outdoor living area that has plenty of room for friends and family. And not to mention, some pretty awesome features like the koi pond and the outdoor fireplace!
Let us help you with your next project. Not sure where to start? Give us a call at (515) 289-2020 to set up a consultation with us. We offer our design and installation services to the Des Moines area, including nearby cities such as West Des Moines, Ankeny, and Urbandale.