We offer professional landscape design & install for your central Iowa property in and around Des Moines, West Des Moines, or Ankeny!
Our designers and installation team are skilled at creating a harmonious design that brings your property curb appeal.
At A+ Lawn & Landscape, our decades of experience combined with ongoing training has enabled us to provide some of the best professional planting and softscape services to the greater central Iowa areas of Des Moines, West Des Moines, Ankeny, and other local communities.
Softscaping refers to all of the living elements in your landscape design. Landscaping as a whole is the combination of all the softscape and hardscape elements that go into making the exterior of your home or business stand out.
Our skilled designers and installation team are here to create a layout and select plants that create a harmonious design to bring curb appeal to your property.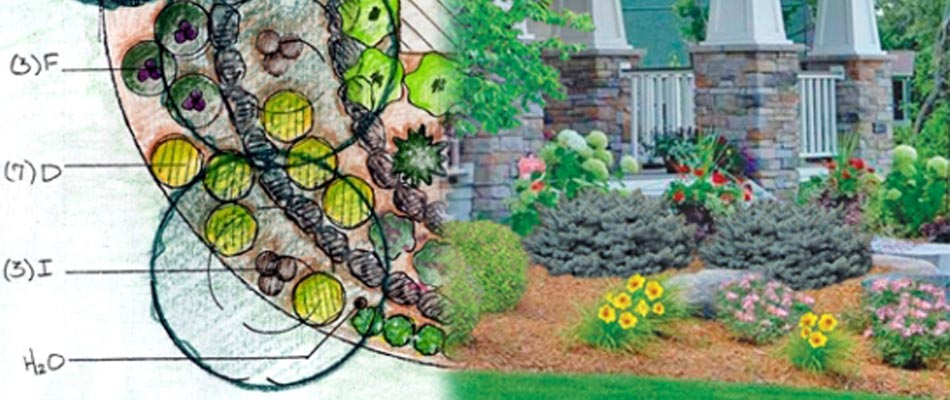 ---
The Design Phase: Determining the Types of Plants to Incorporate, Consideration of Design Elements, & Renderings with 2D or 3D Design Software
The beginning of a landscape project starts with the actual design process. During this time, we help customers determine what they are looking for and the types of plants they want to incorporate in their design.
All plants used in our designs are purchased from the northern region and are meant to withstand the fluctuating temperatures of central Iowa. Customers can find any plants used to create their landscaping designs in our garden center.
During your design phase, we have to consider all of the basic principles of design to create a cohesive plan for your property. Basic design elements for every landscaping project include:
Balance
Focal Points
Proportion
Depth
Unity
We use our design software and a mixture of our artistic experience, along with the natural beauty of landscaping materials, to create a blueprint you are sure to love. Our high-end 2D and 3D rendering software creates a depiction of your home with your unique landscaping design, plants, and ground covering included.
Our design software is capable of rendering any project size and offers customers the flexibility to work one on one with a designer to make adjustments on the spot. The design process is able to go more quickly and smoothly with the help of our software. Also, it allows us to maximize the use of your exterior space
---
What Happens During Landscape Installation
Once we complete the design to your satisfaction, we set up a contract and a date to come back for the installation of your softscape. Our landscapers do everything from tearing down your old design to preparing your yard for the new one.
First, we eliminate any existing landscaping that is not staying as part of your new design. Next, we reshape or create landscaping beds as needed around your property. Before adding in landscaping elements, we construct any hardscaping that you have chosen for the project. Hardscaping can be anything from water and fire features to garden pathways and retaining walls.
After your landscaping beds and hardscaping are installed, we move onto the planting phase. We use local trees, shrubs, and perennials chosen by the customer and plant them based on the design blueprint. Once the plants are in the ground, we take care to cover your landscaping beds with your choice of ground covering.
The most common types of ground covering in central Iowa include compost or colored mulch in red, dark brown, natural, or gold.
---
Goat's Beard, Daylily, & Other Popular Plants Popular to the Region in Our Garden Center
During your design phase, we help you select plants that are adapted to the areas of central Iowa.
Our garden center sells a wide variety of local shrubs, trees, and perennials that are popular for the communities of Des Moines, West Des Moines, and Ankeny.
Some of the most popular plants found around both homes and businesses in the region include:
Goat's Beard
Butterfly Bush
Daylily
Hosta
Hardy Ferns
Peony
Witchazel
Lilac
Dogwood
Honeysuckle
Burning Bush
Azalea
Hydrangea
Variety of Deciduous, Evergreen, & Fruit trees
We offer landscaping design with installation or with the purchase of your plants from our garden center!
---
Benefits of Hiring Professionals for Landscape Design
At A+ Lawn & Landscape, we only provide seasoned employees when it comes to designing your landscape. Landscaping design is critical for your home or business to look clean, manicured, and aesthetically beautiful. It takes time, patience, and a good eye to get the design aspect of it right.
With a professional landscaping company, customers get:
A design that increases your home value and curb appeal
The ability to renovate existing landscaping or to create a brand new design on a clean and clear property
An improved overall property appearance
A rejuvenated landscaping
Experts who practice and utilize the principles of design with the aid of professional design software
---
Call us for a consultation on landscape design and installation services.
A+ Lawn & Landscape is a company with over 25 years in the lawn and landscaping industry. We offer unparalleled softscape services that include price guarantees, warranties, follow-up support, and consistent staffing.
Give us a call today at (515) 289-2020 to start the design process for your central Iowa home or business in Des Moines, West Des Moines, or Ankeny. We offer a free consultation, have a design team with over 100 years of combined experience, and can help you achieve your outdoor improvement goals. Let us help transform your outdoors into an oasis of aesthetically pleasing splendor.
---
Recent Landscaping Articles
Read more landscaping articles on our blog.