After our winters in Iowa, you'll want to ensure that your first mow sets the right tone for the rest of the season and gives your lawn a clean cut. The key to this is performing proper maintenance tasks on your mower every year like changing the oil, checking the spark plug, cleaning the air filter, and greasing the lube points to keep your mower running smooth. Perhaps the most important maintenance task is sharpening the blades to prevent the mower from ripping your grass blades. Because of how essential these factors are in the performance of your mower, it's crucial to schedule full-service mower maintenance every spring before you mow for the first time!
---
Routine mower maintenance should include changing the oil, checking the spark plug, and more!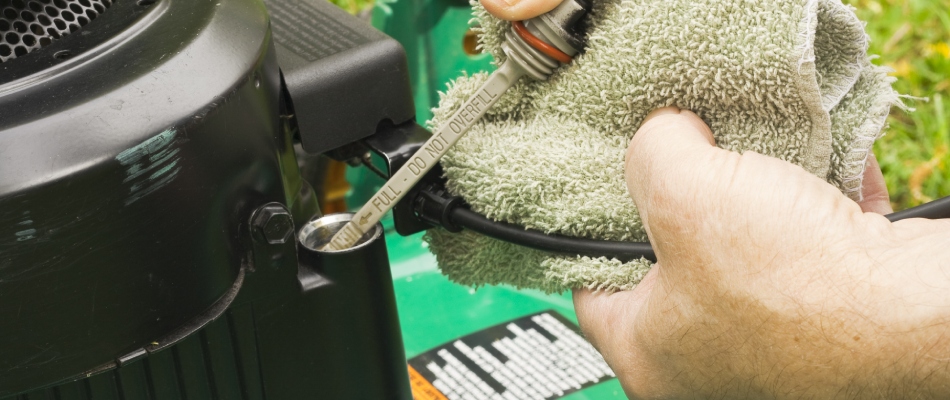 Your mower is a machine just like your car, so proper maintenance is key to securing its longevity. Make sure the following tasks are on your spring to-do list!
Changing the oil: Old oil is dirty and breaks down over time, losing its cooling properties and not giving your engine parts the protection they need.
Checking the spark plug: The spark plug is essential in making sure that your lawnmower can start and run smoothly. Spark plugs should be tan or light gray, but if there are any soot, oil, or carbon marks, yours may need replacing.
Cleaning the air filter: An air filter is your mower's first line of defense against all the dirt and debris that fly around as you mow. Keeping this clean will help keep those materials out of your mower!
Greasing the lube points: Without routine greasing, your mower may develop a tendency to overheat and may even become damaged. Greasing the lube points will help it to remain in peak condition!
---
Keep your mower blades sharp to produce an even, clean cut on your grass.
While every part of the mower works together to create your overall result, perhaps the most important maintenance task is sharpening the blades! These pieces of metal are going to be what your grass comes in direct contact with and can make the difference between a cut that looks clean and a cut that looks ragged. Dull blades will pull and rip at the grass, leaving them weak and susceptible to health threats looking to get a foothold in your lawn. Sharp blades will leave behind an even cut, allowing the grass to heal more quickly. Not only will your mow look better, but your grass blades will thank you too!
It's good practice to sharpen your mower blades twice in a season or after 25 hours of use.
---
Proper mower maintenance early in the year will help prevent health struggles.
To ensure that your mower is in great form after the long winter, it's crucial that you perform or schedule full-service mower maintenance every spring before your first mow. If you mow without the proper maintenance, you could cause damage to not only your mower but also your lawn, creating a potential snowball effect of health struggles at the top of the year. Instead, take good care of your mower so that you can spend the year enjoying your lush, healthy lawn and prevent complications!
---
Let our expert team handle all the details for you. Call us today to schedule our Sharp-N-Lube service!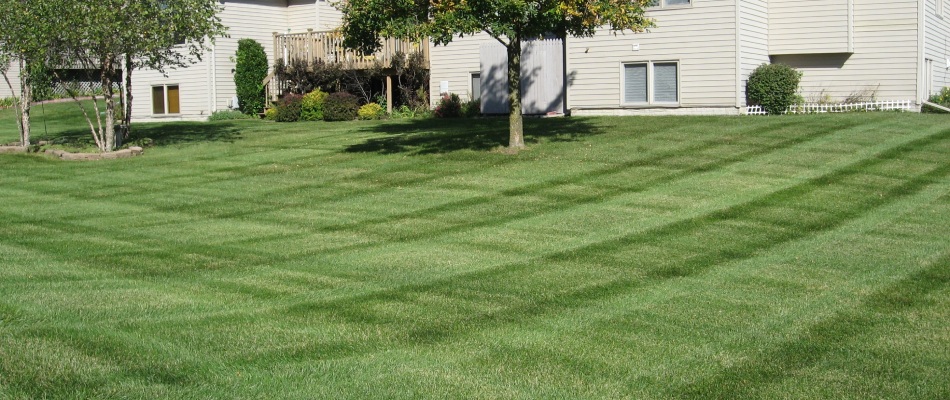 At A+ Lawn & Landscape, we understand the important role your mower plays in the overall health of your lawn. We offer a Sharp-N-Lube service specially crafted for proper mower maintenance. We'll sharpen your blades, grease your mower's lube points, change the oil, and much more in our 12-point mower maintenance service so you are primed and ready for success in the growing season to come. Our service is available in Des Moines, IA and nearby areas including West Des Moines and Ankeny. Call our team today at (515) 289-2020 to schedule our Sharp-N-Lube service and start spring off right!