Weeds can be a huge nuisance to deal with on your property. In Iowa, there are several types of weeds that seemingly disguise themselves as flowers. They may be pretty, but they are still destructive. Therefore, it is important to keep an eye out for them on your lawn.
The 7 common weed types you may spot include ragweed, dandelions, yellow nutsedge, white clover, bindweed, creeping Charlie, and wild mustard. Once these weeds take root, they will absorb as much energy and nutrients as possible. This will make it difficult for your plants and turf to flourish. However, hand pulling these weeds, mowing your lawn, and scheduling fertilization and weed control will prevent weeds from doing unnecessary damage.
---
Ragweed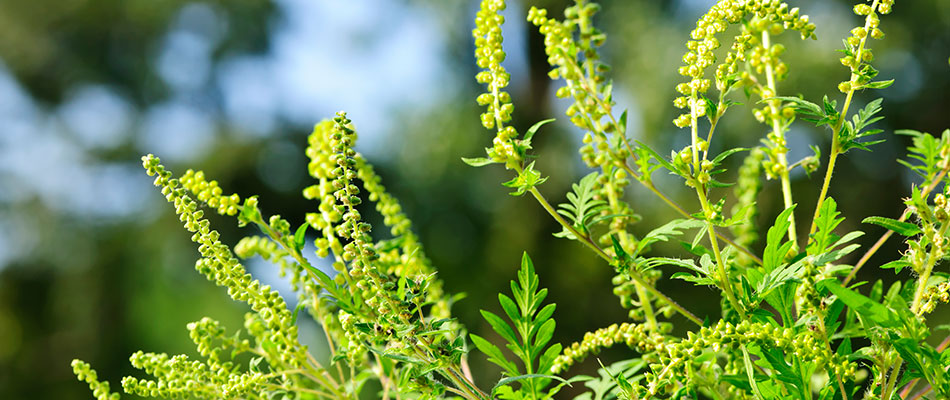 Ragweed is harmful to your turf, but it is also a common allergen. People who are allergic to these weeds may experience itchy, watery eyes and sneezing when the weeds are active in summer and fall.
How They Look: Ragweeds grow long yellow or green stems that produce flower-like clusters. They also produce foxtail fern-like leaves.
How They Thrive: They thrive in untended soil and unkempt lawns.
How to Get Rid of Them: Ragweeds do poorly when your grass is cut regularly, so you should schedule your lawn maintenance services accordingly during their peak growing months.
---
Dandelions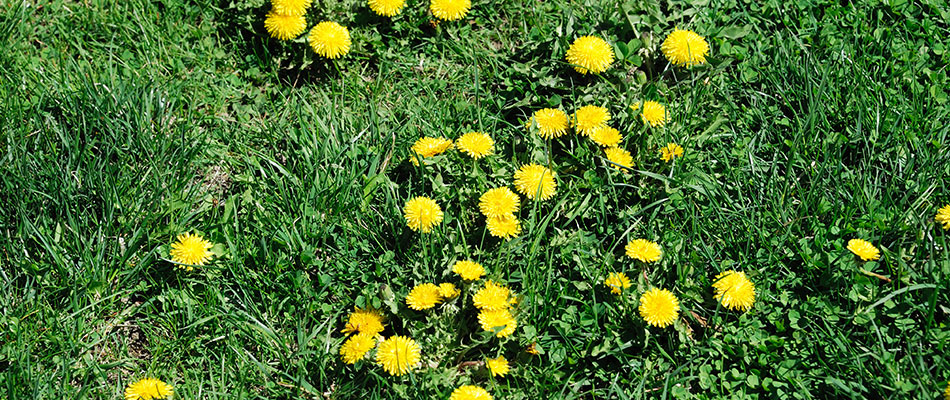 Dandelions can be hard to kill because their roots can embed in your soil up to 18 inches deep. They grow every spring and can overtake your grass.
How They Look: They produce yellow leaves and will grow long stems anywhere from 5-18 inches tall.
How They Thrive: They thrive in moist soil and full sunlight. Once they are established, they can withstand drought conditions and become harder to eliminate.
How to Get Rid of Them: You will need to eliminate these plants entirely or else their roots will be left intact to sprout new weeds. Professional fertilization and weed control services are often the best choice.
---
Yellow Nutsedge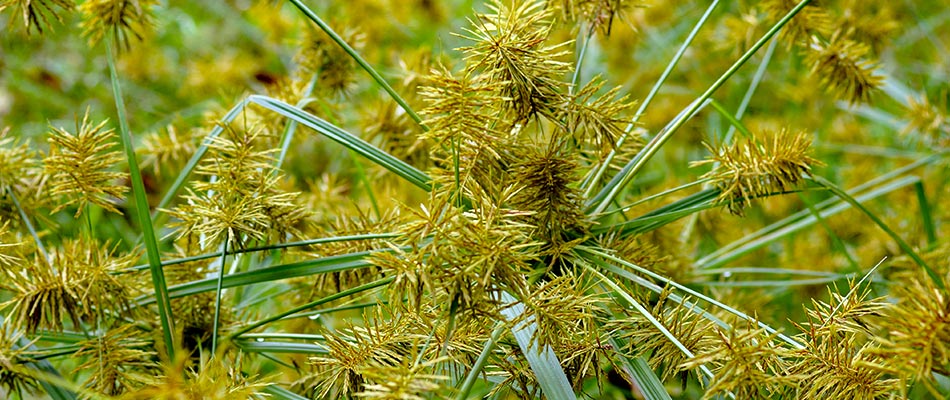 Yellow nutsedge is technically a sedge rather than a weed, but it can still consume your lawn. It will spring up in clusters during the summer and, once embedded in your soil, becomes very hard to manage.
How It Looks: It looks like single-bladed grass shoots with a slight yellow tint around the stem. Nutsedge grows hundreds of small tubers in a single growing season.
How It Thrives: Yellow nutsedge grows in moist soil with poor drainage and in unhealthy, fine grass.
How to Get Rid of It: Growing healthy turf with well-drained soil will create an unsuitable environment for these weeds. If you spot nutsedge on your lawn, you should schedule professional weed control services.
---
White Clover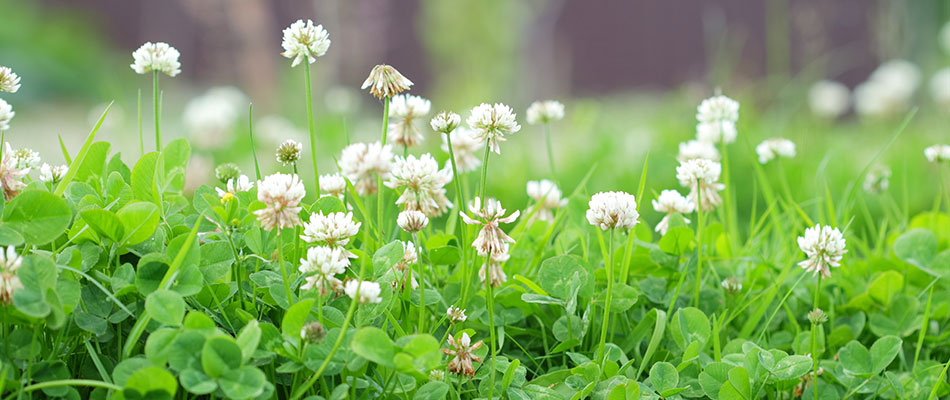 White clovers have 3 small leaflets and grow during the spring and summer. If unchecked, they will sprout up heavily in your lawn and keep your grass from absorbing nutrients.
How They Look: They have long green stems and flower-like white blooms. They bear a resemblance to baby's breath flowers.
How They Thrive: They thrive in lawns with poor nitrogen, especially in patchy or barren areas.
How to Get Rid of Them: White clovers have shallow roots, so you may be able to just pull them up. Keeping your lawn mowed regularly and your soil healthy will greatly help.
---
Bindweed
Bindweeds grow in spring and can quickly cause problems in your lawn. They are known for how they entangle themselves around the roots of plants and grass.
How They Look: These weeds grow white flower-like pedals and appear pink before they fully bloom.
How They Thrive: They thrive in poor soil conditions where plant growth is sparse. You may spot them around the edges of your lawn.
How to Get Rid of Them: Bindweeds are difficult to get rid of long-term without improving the health of your soil.
---
Creeping Charlie
Creeping Charlie, or ground ivy, is a weed that has a strong root system. These weeds are active in the fall and, as they invade your soil, will stifle the growth of your turf.
How They Look: They grow long green vines with flower-like lavender pedals.
How They Thrive: They love growing in unhealthy lawns with poor soil.
How to Get Rid of Them: Sometimes you can pull them by hand, but oftentimes you will need weed control treatment services.
---
Wild Mustard
Wild mustard is an invasive weed species that can grow upwards of 3 feet tall. It is a nightmare for larger yards where the grass may not be maintained as often in certain areas around your property. These weeds begin sprouting from spring to fall. If untreated, they will quickly steal nutrients from your turf.
How They Look: They produce long stalks and bud yellow, flower-like pedals.
How They Thrive: This weed thrives in unkempt grass and in virtually any soil, no matter how healthy it is.
How to Get Rid of Them: Hand pulling these weeds and keeping a healthy, mowed lawn will help eliminate them.
Weed control and fertilization services are the most effective way to target weeds and should be scheduled throughout the year to keep your lawn healthy.
---
Kick weeds out with weed control and fertilization. Give us a call to schedule our services!
Weeds can make it impossible to grow a healthy lawn, so you shouldn't tolerate them. We can help you kick weeds out with our weed control and fertilization services. We offer our services in Des Moines, West Des Moines, Ankeny, and nearby areas in Iowa. Give us a call today at (515) 289-2020 to get a quote and schedule our services.