Retaining walls are structural elements that act as an attractive hardscaped feature for your property, but they are also practical. Walls can be used for erosion control, design, and seating (sometimes all at once), so let's look at the different options for retaining walls to meet your needs for your Des Moines, IA area home or business.
---
Erosion Retaining Walls
When you have a significant slope or relatively dramatic changes in elevation, erosion retaining walls (also known as structural or functional retaining walls), can be installed to accomplish two goals:
Stop the soil from eroding
Support the embankment
This type of retaining wall can vary greatly in size, depending on the needs of the property. Because the erosion retaining wall can be so large, you can also incorporate a lot of other features to make it more than "just a wall". The wall can be designed to add seating or even be used as the edge of a landscaping bed.
Walls are often built from concrete blocks, stone, or sometimes pressure-treated wood. Stone and concrete walls are designed to last for a very long time.
Depending on the size, however, an engineer may be required to plan the structure and building materials that are appropriate for the scale.
---
Design Retaining Walls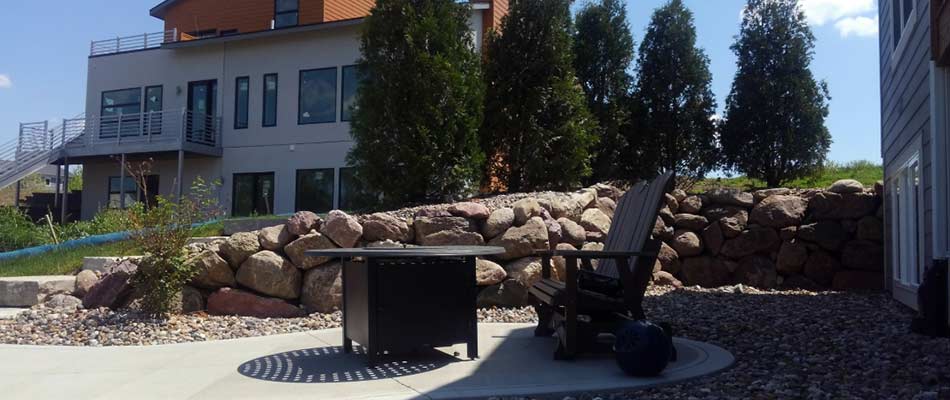 Design retaining walls are used exactly as they sound—for design. These aren't built specifically for structure, although decorative elements can be incorporated into structural walls.
Retaining walls created with aesthetics in mind can be used as:
Decorative hardscaping structure
Planter beds
Property borders
…and more
Common decorative materials include multiple varieties of stone, bricks, wood, and even poured concrete.
---
Seating Walls
Seating walls are designed to be used to add seating around an outdoor living area/fire pit. By adding permanent structures to your outdoor living space, you can increase the property value by making this space more usable year-round. Not to mention, permanent outdoor seating is convenient and doesn't require pulling out the camp chairs.
---
Wall Materials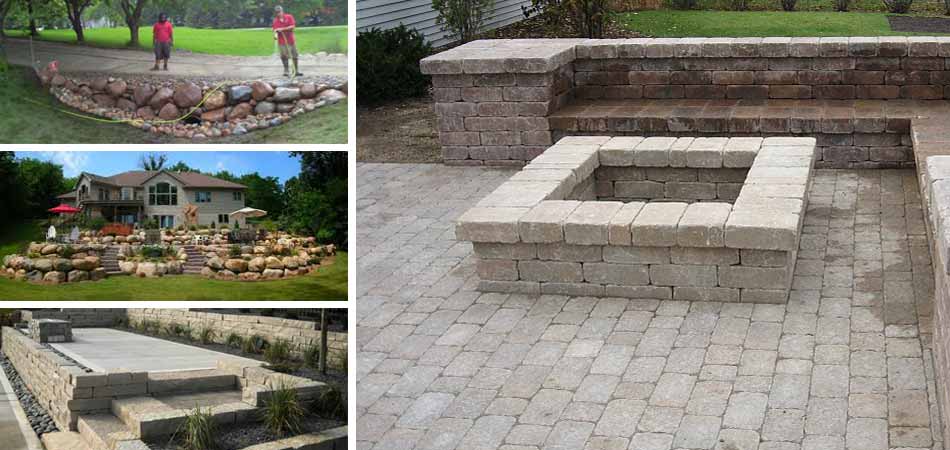 You have a wide range of materials to choose from when you're designing your retaining wall. Concrete blocks are common and last 50-100 years, but you're limited in terms of color and style. However, it's structurally very sound.
Stone is more expensive, but you get the same level of structural security with a greater range of design options. Stones can vary from rounded boulders to flagstone slabs, and colors can range from blues and grays to browns and tans.
Pressure-treated wood is another popular choice, but walls made of wood may need to be replaced after 10 years or so. Regardless of your material choice, hiring a professional to do the installation is recommended because wall building requires expertise and precision.
View Retaining & Seating Walls
---
Retaining walls can transform your property and make it more robust and beautiful. Schedule a consultation today.
Retaining walls may be just what your property in Des Moines needs. A+ Lawn & Landscape has the experience you need in order to build a wall that has the perfect combination of quality construction and aesthetics. Call us today at (515) 289-2020 to discuss your options and schedule your installation.