Your landscape beds are focal points on your property in Iowa, and a great way to take them to the next level is by installing a ground cover! You have two options for your ground cover: mulch and rocks. Choosing which to use is tough because they both offer great benefits, like weed prevention, erosion control, soil temperature regulation, and moisture retention. However, mulch eventually breaks down and releases nutrients back into the soil, so you'll need to replenish it often to remain effective. Unlike mulch, rocks are generally low-maintenance since they don't decompose and only need to be refreshed when their colors become dull. Neither option is better because both are great, so in the end, the choice will depend on your personal preference.
---
What are the benefits of using mulch in your landscape beds?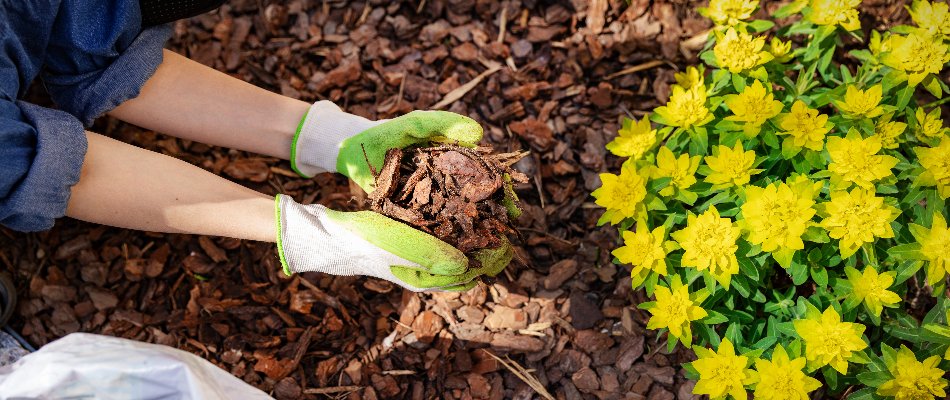 Mulch is made up of organic materials and is a great choice for your landscape beds. This ground cover option comes in various colors that can give your landscape beds a polished, pristine look and make your vibrant plants stand out even more. Aside from its aesthetic perks, mulch also offers lots of health benefits to your plants. Over time, it will eventually decompose and release nutrients back into the soil, which can help boost their overall vigor. It also offers these other health benefits:
Weed prevention: Mulch covers the soil and prevents resources from reaching any weed seeds so they don't have the chance to grow and pop up in your landscape beds.
Soil erosion control: A layer of mulch in your landscape beds protects the soil from eroding due to wind and rain. Because of this, essential nutrients in the topsoil can be maximized by your plants.
Soil temperature regulation: By covering the soil, mulch insulates the ground to keep harsh temperatures from stressing out the roots of your plants.
Moisture retention: This ground covering helps keep the roots of your plants moist by slowing evaporation. Because of this, your plants can stay hydrated for longer and not require as much watering.
Mulch needs to be replenished at least once a year to ensure your plants continue to reap all the intended benefits.
---
What does a rock ground cover offer for my landscape beds?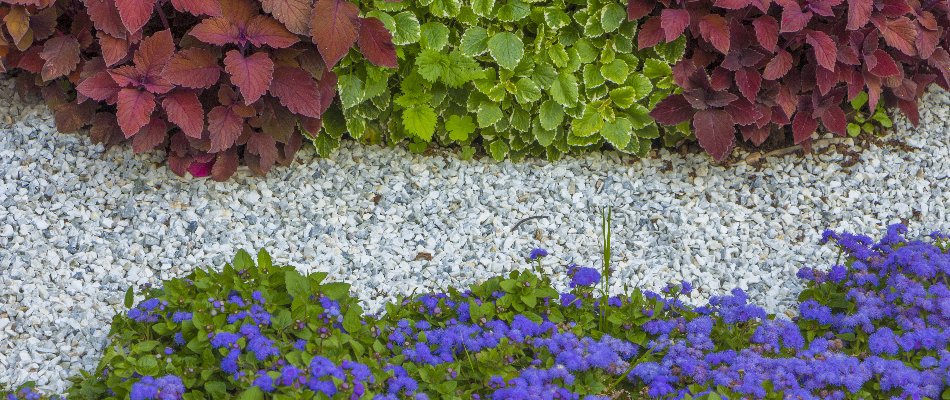 Rocks are your other ground cover option. It is a reliable ground cover that will benefit your landscape beds the same way mulch does. It helps prevent weed growth, combat erosion, regulate soil temperature, and retain moisture. However, rocks don't decompose, which means they don't release nutrients into the soil, but they can last longer in your landscape beds and don't have to be replenished as often. When you do, it's usually for aesthetic purposes when their color starts to fade. Rock ground covers also come in different colors that can diversify the look of your landscape and add a unique visual appeal.
---
Neither option is better, the choice between mulch or rocks depends on your preference.
When choosing between mulch or rock, the only thing you need to remember is that neither is better. Both mulch and rocks are great options for your landscape beds, and the choice ultimately depends on your preference and which you think will suit them better! If you want an organic material that releases beneficial nutrients when it decomposes, then mulch might be the right ground cover for you. If you're looking for a low-maintenance ground cover that does not need to be refreshed as often, then rocks are ideal for your landscape beds.
---
Call us today to get an estimate on our mulch or rock installation service.
If you want to elevate the beauty of your landscape beds and provide protection for your plants, installing a mulch or rock ground cover is the best way to achieve these goals. Fortunately, you've come to the right place. Our team at A+ Lawn & Landscape offers mulch and rock installation services to commercial and residential properties, as well as HOAs, in Des Moines, West Des Moines, Ankeny, IA, and nearby communities. We can help you choose the best color for your mulch or rock ground cover to give you the best results for your landscape beds! Give us a call today at (515) 289-2020 to get an estimate on our mulch or rock installation service.