Almost nothing is better than gathering with your friends and family around a warm fire pit during a chilly night in Iowa! If you're ready to start designing your dream fire pit, we're here to help you choose the perfect material. Because there are so many options, it can quickly get overwhelming and hard to know which material is the right choice; each one has its own pros and cons to think about. From stone to stucco to tile, there is a range of colors and styles to choose from!
---
1. Stone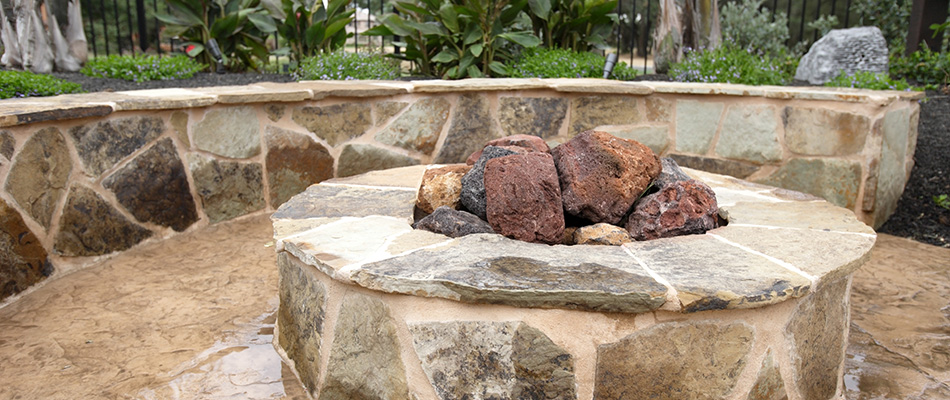 Stone is one of the most common materials used for fire pits. One of the reasons for this is that it is extremely durable. Simply put, a stone fire pit can easily last a lifetime, and then some. Unlike stucco and tile, stone fire pits tend to have a larger, more solid feel and appearance.
Pros
Durable and sturdy
Very low-maintenance
Gives off a more natural look that blends well into your landscape
Cons
Not as much room for creative design or custom shapes
---
2. Stucco
Compared to stone and tile, stucco fire pits tend to be a bit less expensive, which can be a major selling point for some property owners. One of the best features of a stucco fire pit is that there's a ton of room for creative design, as stucco can be molded into nearly any shape you can think of and can be easily painted.
Its smooth, molded, and rustic appearance gives the vibe of an antiquated Spanish-style villa, which can make it the centerpiece of your outdoor patio. The only real drawback of using stucco as a fire pit material is that it's not quite as durable and may become chipped over time if you're not careful.
Pros
Tons of room for creative design with custom shapes and custom painting
Lower cost
Gives off a rustic, handmade appearance
Cons
May become chipped over time or with excessive use
Outdoor fire pits not only keep you cozy and warm but they also help to raise your property value!
---
3. Tile
To create a tile fire pit, custom tiles are typically laid over a concrete or metal frame. Although tile fire pits are often associated with square or rectangle shapes, tile can also be used to build circular fire pits as well (the tiles will just need to be custom-cut to fit).
Depending on the type of tiles you select, you can achieve a very modern appearance or a classic, antiquated appearance. You'll also be able to choose between larger and smaller tiles, which can be used to create custom mosaic designs!
Pros
Can be used to create modern or antique designs
Very easy to clean
Ability to create stunning mosaic-style designs
Cons
Can become cracked under a heavy impact such as dropping your metal poker stick or a heavy log on a tile
---
Have you chosen the perfect material for your new fire pit? Call us!
We specialize in building high-quality and extremely durable outdoor fire pits that are designed to stand the test of time. With a custom outdoor fire pit from our team, you'll be able to turn your outdoor patio into the centerpiece of your property. Just imagine all of the memories you'll be able to create by the fire!
Our team has been around since 1988, giving us the extensive experience and expertise to help you build the perfect fire feature for your landscape. If you are a property owner in the Des Moines, IA area, including West Des Moines and Ankeny, give our team a call at (515) 289-2020 to schedule a consultation. Get started building your dream fire pit with us today!