Fall leaves can damage your property if ignored.
Two popular maintenance services that are done for fall lawn care are leaf removal and leaf mulching. Both can improve the health and appearance of your grass, but it all depends on what your property needs.
In Des Moines and other cities in northern Iowa, it's important that your lawn receives the right fall maintenance so it stays protected during the winter season. See which leaf cleanup service would be most beneficial for your landscape if you are unsure about which one to choose!
---
What's the difference between leaf mulching and leaf removal?
Leaf removal is exactly that; removing leaves. The process involves raking up all the leaves from your lawn and removing them off your property. This cleanup process can take a while, which is why it's beneficial to hire a professional. Additionally, you don't have to worry about having to get rid of all the yard waste.
Leaf mulching, on the other hand, is a little more involved. Specialized mulching equipment is used to chomp up leaves into very small particles that are left behind on your property. Because the leaves have been cut up into such small pieces, they will decompose quickly, giving your grass some much-needed nutrients before going dormant for the winter.
---
Which fall service is best for my property?
Both leaf services are beneficial in that they both prevent a thick layer of leaves from forming on the surface of your grass, which can cause long-term damage. In terms of what's best for your Des Moines lawn, there are pros and cons to each.
Leaf Removal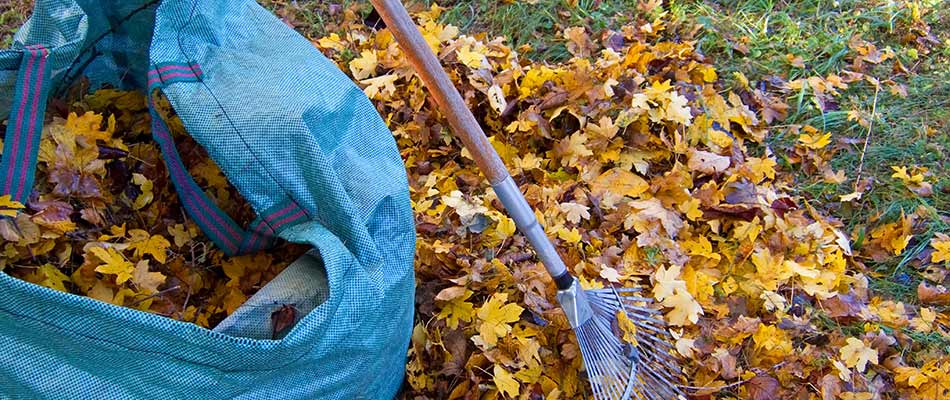 Full leaf removal can benefit the health of your lawn by reducing the risk of disease and pest infestation. It also ensures your grass can get enough sunlight and water to continue growing strong and healthy.
One of the best parts about hiring pros for leaf removal is that you don't have to coordinate how and when to get rid of all that yard waste. However, you don't get any added nutrient benefits for the yard, and fall is the time when grass could use a boost before winter.
Leaf Mulching
Leaf mulching is faster and easier than raking an entire lawn, but the biggest benefit is the nutrients it can provide for your grass. A study by Michigan State University found that property owners noticed nearly a 100% decrease in dandelions and crabgrass after only three years of mulching their leaves. When mixed with grass clippings, leaf mulch acts as a natural nitrogen and carbon-rich fertilizer for your lawn.
The downside is that not all yards are eligible. If your yard has too many leaves, the mulch cover could end up suffocating your lawn even more and prevent light or water from reaching your grass.
---
Whatever you do, don't ignore your leaves.
Regardless of which option you choose, the worst thing you can do is ignore the leaves altogether and let them continue to sit on your yard. Leaving leaves on your property will eventually damage the grass.
A yard cluttered with leaves is a paradise for pests, and allowing snow and ice to accumulate on your leaves can create excess moisture. This can increase the risk of fungus, mold, and other diseases infesting your lawn. When leaves start to pile up, they also create a thick layer that blocks sunlight from getting to the grass, which can eventually kill it.
---
Get rid of those leaves by giving our team a call today!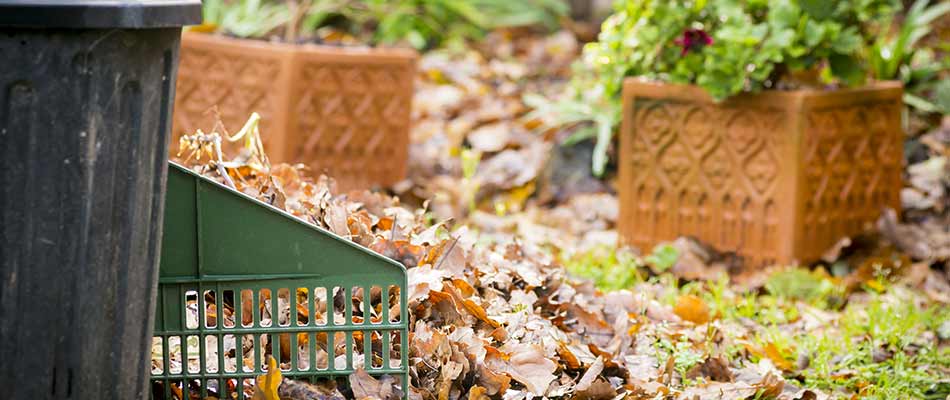 Leaf removal and leaf mulch are both beneficial for your lawn and landscape, but it's always good to ask a professional which service would work best for your property needs. In Des Moines, West Des Moines, Ankeny, and other areas of central Iowa, we understand the importance of fall lawn maintenance. If you are in need of a fall leaf cleanup, call us today at (515) 289-2020 to schedule an appointment!