Winter in Iowa is on its way! As you prepare for the shorter days ahead, it's important to think about your family's safety as they walk around your property in the dark. Aside from consistent snow removal and salting your driveway, walkways, and entryways, it is important to make sure that these high-traffic areas are always lit up after the sun goes down.
Having the right outdoor lighting is crucial for the winter season to help prevent tripping or slipping. Professional outdoor lighting companies can help you light up your steps, walkways, entryways, and driveway in a way that looks elegant and increases your property's curb appeal.
---
Line your steps with light for better visibility.
Steps are one of the most important places to illuminate for safety. If there are any outdoor steps on your property, such as steps leading from your porch down to your walkway, it is crucial to install lights that keep them visible even after the sun goes down.
A professional outdoor lighting company like ours can help you choose the best way to light up your outdoor steps. You can choose to keep it subtle by installing the lights into your risers, or you can go for the more dramatic look by using a downlightng technique. No matter your style, there is a technique for every homeowners' style preference.
Choose LED bulbs for your outdoor lighting to ensure long-lasting durability!
---
Install lights along your walkways and entryways.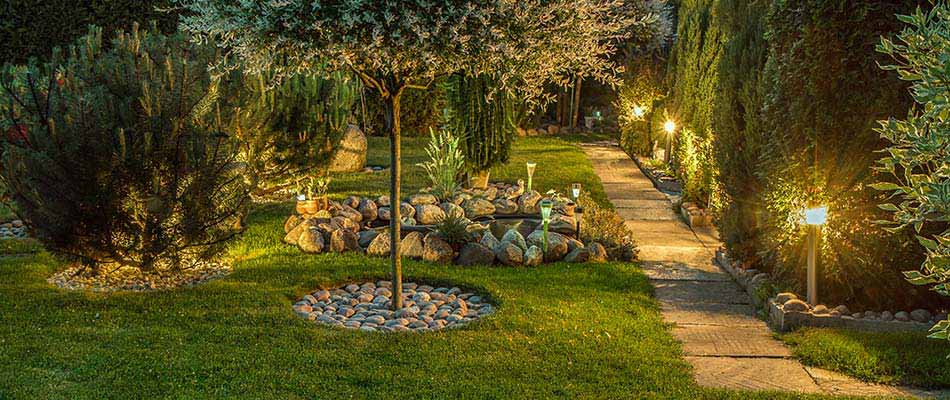 The days are shorter in the wintertime and, chances are, you are traveling to or from work in the dark. The last thing you want as you are on your way out or in the door is to step on your walkway and slip from the ice you didn't notice! There are so many ways to light up your walkways and entryways to give off the perfect ambiance that matches your style. From string lights that line the path to custom downlights, your options are endless.
---
Utilize floodlights and their ability to illuminate a large area!
Floodlights are a cost-effective way to illuminate a large part of your property. Many of our customers choose to add a floodlight directly above their garage, as this position will allow the light to shine directly at the driveway. Whether you are driving in and out of your driveway, walking on it, or shoveling it, you will absolutely need a good amount of light here. However, when you install a floodlight, you must think about your neighbors and how close they are to your property! Sometimes, floodlights are so bright that they not only light up your property but your neighbors' as well. Professional outdoor lighting companies can help you decipher the best spot for a floodlight to receive the most benefits from it while also being mindful of your neighbors.
Outdoor lighting not only helps keep you and your family safe, but it can also increase your property value.
---
Reduce the chances of slipping and falling this winter with outdoor lighting. Give us a call!
Lighting up your outdoor space during the winter season is a great idea and an excellent way to protect your guests and your family from slipping and falling. At A+ Lawn & Landscape, we understand that your yard is your pride and joy. That is why every outdoor lighting project we undertake is treated with great care. You can trust us to design your custom outdoor lighting to perfectly match your style and illuminate the high-traffic areas on your property.
Our company proudly serves the Des Moines, IA area. This includes West Des Moines, Ankeny, Urbandale, and more. Call us today at (515) 289-2020 to set up a consultation!