Adding outdoor lighting to your home or business will increase your property value while also adding safety aspects for yourself, your family, friends, and employees. Keeping entertainment areas lit up as the sun goes down also allows for more time spent outdoors! You can't go wrong with adding a little bit of brightness to your property. But - how much will it cost you?
The cost of your outdoor lighting installation has a lot of different variables. Therefore, it is hard to give a cut and dry answer to the most asked question! Throughout this article, we will touch on those different variables that can either decrease or increase your installation price. Read on below to get an idea of what the price tag will be on your outdoor lighting project in the Des Moines area.
---
Multiple factors will determine the cost of your outdoor lighting project.
Variables such as the type of bulbs used, labor hours, and the overall design plan all play a role in how much it will cost to install outdoor lighting on your property. Taking all of this into consideration before you get started with the actual design will help you plan more efficiently and accurately, leaving you with no cost surprises. Below are the major variables that you should take into consideration:
The Design/Plan
Lighting up your property simply for safety purposes will most likely have different price points than lighting it up for entertainment purposes. If you are just planning to add a couple of bulbs along your walkway, the price will stay relatively low. However, if you want to string lights across your patio, your outdoor kitchen, and your porch while also illuminating your swimming pool, you'll have to account for those extra lights.
The Quality
There are so many different options you can choose from when deciding the quality of your lighting system. What brand do you want to use? Do you want your bulbs to be able to switch between colors? Maybe you want to add automation features such as motion sensors and remote controls! The opportunities are pretty much endless, yet they will impact your price the more you keep adding on.
Lighting Techniques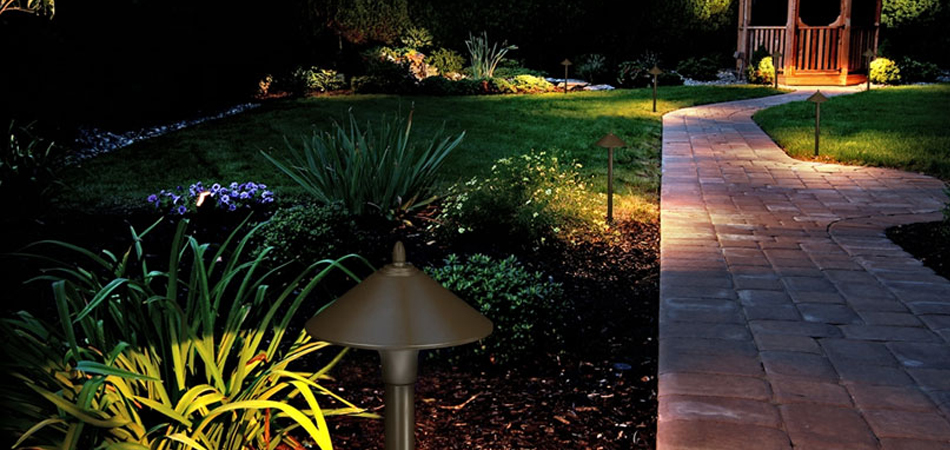 Your lighting techniques mold a little bit into the same considerations as your design plan does, but it is important to highlight the different types of lighting you can buy. If you want to just light up your walkway, this would be called path lighting. Path lighting has a different price point than, say, spotlighting which would show off your favorite trees, plants, or any other beautiful feature on your property.
Labor Considerations
The cost of labor isn't always the first thing that property owners think of when designing their new space. However, it could be a large chunk of the price that you pay. Most landscaping companies charge you by the hour for their crew to work on your installation. This obviously will vary from company to company, so it is best to do a little shopping around for price comparisons. The more intensive your project is, the more hours it will take to install, and the more money it will cost you.
Property Size
Last but not least, the size of your home or business will also play a part in the price tag on outdoor lighting. Smaller homes cover less area and will have fewer structures to light up. Larger homes might be accompanied by extra hardscape features or a larger deck or patio, resulting in extra bulbs and labor costs.
---
Average Outdoor Lighting Costs for Des Moines, Iowa
Taking all of these factors into consideration, we can now offer a general range of what your outdoor lighting project might cost. The average local Des Moines price for lighting installation runs from about $1,045 to $5,225. It is typical to spend around $2,500 for these projects, yet your personal preferences and needs can either decrease or increase this average. A large, intricate outdoor lighting project can run up to $10,000.
---
We offer exceptional, energy-efficient outdoor lighting solutions for your property in Des Moines. Call us today!
We can guess that you have a pretty good idea of how you want your outdoor lighting to look by now. So, it's time to start quoting! Our company offers outdoor lighting services to the Des Moines, IA area, including West Des Moines and Ankeny. Our team would be happy to run a quote for you so that you can get a better idea of how much money you will spend on your outdoor lighting project. Give our office a call today at (515) 289-2020!