Custom outdoor lighting is a great way to enhance the beauty of your home. Adding tasteful lighting to landscape beds, walkways, driveways, and other areas of your property highlights your home's best features while adding extra safety and security by illuminating dark areas of your property.
Here are some ways custom outdoor lighting can enhance your home in Des Moines, West Des Moines, Ankeny, and the surrounding areas.
---
Outdoor Lighting Adds Value & Functionality to Your Home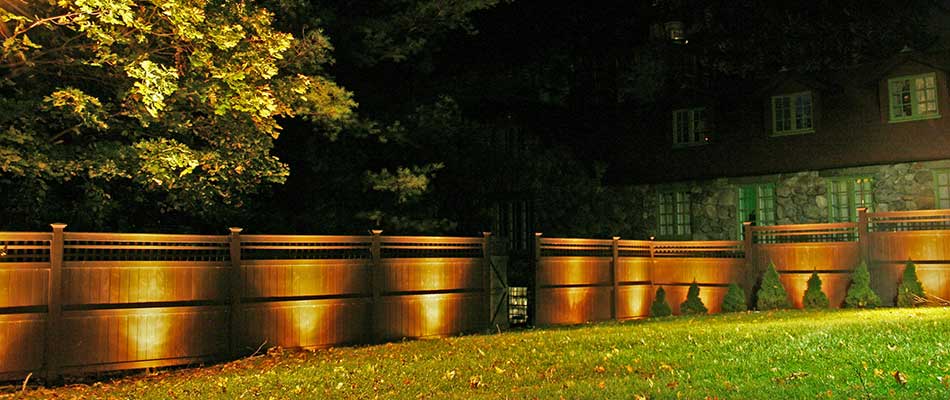 A home with proper outdoor lighting is much more than just a beautiful sight to behold in a neighborhood. Proper outdoor lighting can increase the value of your home and add functionality. On average, custom landscape lighting can increase your home's value by 20 percent. If you install energy-efficient LED bulbs, this lighting can save you even more money.
Adding a to a home's curb appeal always increases the property's value, and the same is true for custom landscape lighting. Outdoor lighting enhances your home by highlighting the decor and other areas of interest while complementing its style. Fixtures and lighting are available in many styles and finishes to enhance the look and feel of your outdoor living areas.
Outdoor lighting adds functionality to your outdoor living areas. Without proper lighting, certain areas inside your home become less functional, and the same is true for outdoor living spaces. Without light, these areas become unusable after dark and limit your time and enjoyment outside. By installing custom outdoor lighting, you extend the use of these outdoor areas well after it grows dark outside.
---
Add Extra Security & Safety to Your Home with Custom Outdoor Lighting
A dark property poses a number of safety risks for you, your family, and visitors. When walkways and stairs are not properly lit, it's hard to see where you're going and spot any obstacles in your path. This increases the likelihood of falls and accidental injuries.
Outdoor lighting can also reduce some insurance rates because they reduce the likelihood of break-ins. Installing custom outdoor lighting deters break-ins by illuminating dark corners and shadows on your property where thieves can lurk around your home. Motion sensor lighting, such as floodlights, is a great way to instantly light up an area when someone is walking around on your property. If this person is a burglar, the bright lighting can be enough to scare them away and keep your home safe.
Installing proper outdoor lighting around dark areas of your home such as walkways, patios, and steps, can improve visibility after dark and lower the risk of accidental falls and severe injuries.
---
Types of Lighting & Where to Install Outdoor Lighting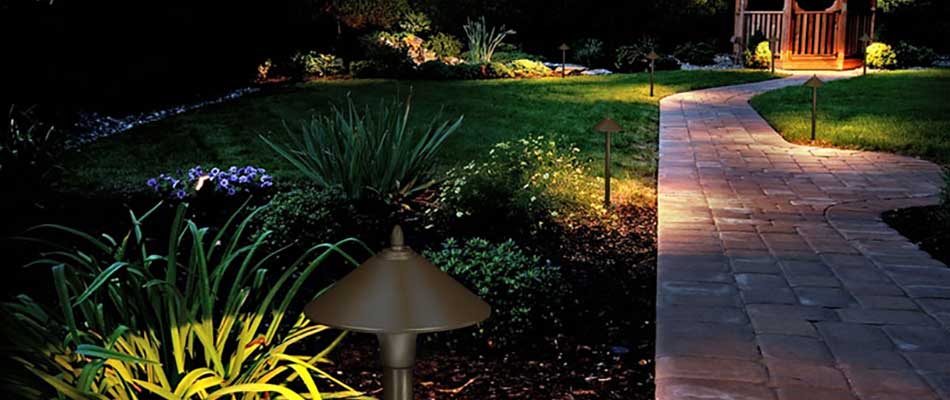 There are many types and techniques of outdoor lighting, and each one enhances your home in a different way. Spotlighting is a great way to showcase your favorite areas of your property and highlight plants and landscape beds. Downlighting creates a natural light effect, while uplighting works from the ground up to display a tree or plant's beauty and shape. If you're wanting to add visibility around your walkways for safety reasons, then path lighting or accent lighting is a great way to add a practical and sightly feature to your landscape at night.
---
Ready to add some outdoor lighting to your home?
We've been installing custom lighting for homes in Des Moines, West Des Moines, Ankeny, and the surrounding areas for over 20 years. If you're ready to have professional outdoor lighting installed on your property, give us a call at (515) 289-2020 to see how we can help.