A great fire pit can be the focal point of your backyard, becoming a place for relaxing after a hard day, cooking s'mores with the kids, or providing ambiance for a gathering of friends and family. Versatile and customizable to suit your needs, you can choose from either a wood-burning or gas-burning fire pit.
At A+ Lawn & Landscape, we install both options throughout the Des Moines, Iowa area. Choosing between a gas or a wood-burning fire pit all comes down to your personal preferences. Below we have outlined some important aspects to consider when choosing one or the other.
---
Gas vs. Wood-Burning Fire Pits
When deciding between a gas or wood-burning fire pit, consider the following:
Cost: Wood-burning fire pits are cheaper to install because you don't need to build in a gas line like you would for a gas-burning fire pit. The money for wood-burning fire pits mostly comes down to the materials and the firewood.
Installation time: Gas-burning fire pits take around 50% - 75% longer to install, as a gas line is needed to connect to a storage tank. Once a gas-burning fire pit is complete, though, it is ready to use at the push of a button. A wood-burning fire pit takes much less time to install, yet getting the fire going takes more effort than pressing a button.
Maintenance: Wood-burning fire pits require more maintenance. When you are finished enjoying your crackling fire, you will need to clean up the ash after each use and make sure that the fire is entirely out before walking away. On the other hand, gas fire pits require a flip of a switch to turn on and off, with no messy clean-up.
Convenience: With no mess to clean up or wood to chop and store, gas-burning fire pits are convenient to own and operate. They also don't produce smoke, so the smell will not seep into your clothes. However, when it comes to cooking over your fire pit, you can't beat wood.
Safety: Gas fire pits come with the risk of gas leaks, but these are very rare with a professionally installed fire pit. Owners of wood-burning fire pits must take a little more caution, from splitting wood to extinguishing the fire properly. Woodfire also produces smoke, which may bother those with respiratory issues.
---
Pros & Cons of Wood & Gas-Burning Fire Pits
Pros for Wood-Burning Fire Pits
Cheaper and quicker to install
Traditional looking flames and authentic crackling sounds
Hotter
Better for cooking
Cons for Wood-Burning Fire Pits
Chopping and storing wood is a hassle
Fires take time to start
Smoke
Messy clean-up
Pros for Gas-Burning Fire Pits
Instant start and stop
No mess to clean
No wood to chop and store
Smokeless
Cons for Gas-Burning Fire Pits
More expensive and time-consuming to install
Potential for gas leaks
Less heat
Less authentic look and sounds
Must connect to a gas line or propane tank
---
We offer both wood and gas-burning fire pits. Call us today for a quote!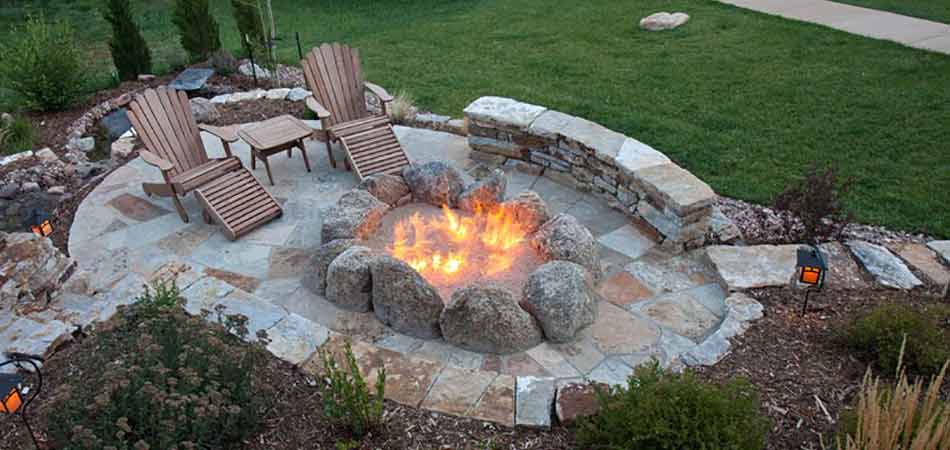 Whether you prefer the authentic look and feel of a traditional wood-burning fire pit or the ease of use and maintenance of a gas-burning fire pit, choosing between the two comes down to personal preference and your individual lifestyle. Both are great choices and will increase your property value while providing a cozy place to gather friends and family.
No matter which type you choose, our team at A+ Lawn & Landscape can meet all your installation, repair, or conversion needs. We offer our fire pit installation services to the Des Moines, Iowa area, including West Des Moines, Ankeny, and Urbandale. Give us a call today at (515) 289-2020 to receive a quote or visit our fire pits and fireplaces page to learn more about this service.