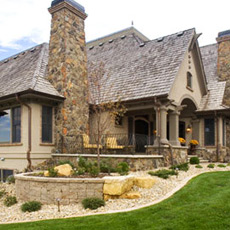 Are you thinking of selling your home this spring? Spring is the best time to sell your home. With warmer weather, longer days, and the need to get settled in before school starts again in the fall, home buying surges in the spring - usually peaking around June - and everyone sees your home from the outside first.

We've all seen them. Potential home buyers, driving by slowly, peering through their car windows. They are looking at properties contemplating on whether or not to follow up with an appointment or attend an open house. Are you making the impression you want?

By addressing and stepping up your curb appeal, you have the opportunity to influence how potential buyers feel about your home - even before they step inside. While many people spend time decluttering and staging the inside of their homes, nothing says neglect like an overgrown, unattended landscape.

Did you know studies show that you can add as much as 10% value to your home by taking time to seriously address your curb appeal?
That's why it's important to plan ahead. The best time to start cleaning up your yard is at least one month before you plan to show your home. This way, you give yourself enough time to make sure everything looks just right. You don't want to give the impression that you put things together at the last minute.
If you're ready to step up your curb appeal, the following five tips will help you spruce up your property and give you the advantage to help sell your home quickly!
---
1. TOUCH UP MULCH & ROCK BEDS
One of the most cost-effective improvements you can make is touching up your planting beds. Adding fresh mulch or rock adds color and contrast to the outside of your home. Plus, mulch and rock are relatively inexpensive and easy to apply!
---
2. ADD SEASONAL SPLASHES OF COLOR
Use seasonal annuals to add bright colors to your landscape. Bright colors add even more contrast and make things "pop". Use them where potential buyers will see them: entryways, patios, walkways - be creative! Utilizing interesting pots as focal points to show the design possibilites of your home is another great technique. Use annuals and tropicals in your pots for a unique flair. Seasonal perennials are also inexpensive and add another dimension of color and texture to your landscape.
---
3. CLEAN UP WATER FEATURES
Remove leaves and algae from your water features and make sure to clean the filters. You want the water to be crystal clear. A dirty water feature can be an instant turn off.
---
v
4. TRIM BED EDGES AND PLANTS
Remove encroaching grass, weeds and dead plants. Nothing says curb appeal like a crisp, sharp planting bed edge. Take the time to trim neglected plants, remove dead branches and trim plants to their proper height. Add fresh plantings where appropriate, and replace old sparse and woody plants with new vigorous ones. And as always, make sure your plants are properly watered and healthy.
---
5. LAWN CARE
Don't forget the lawn. Continue (or start!) spring and summer lawn treatments. A beautiful, green, weed-free lawn is priceless. Make sure your irrigation systems are running properly, and any needed repairs are taken care of. These can be huge pain points for potential home buyers.
Other cost-effective improvements can include:
Powerwashing hardscapes, patios and driveways. Powerwashers also do a great job freshening up fences and vinyl siding.
Check landscape lighting systems. Clean lenses, wires, fixtures and transformers.
Make sure downspouts and gutters are functioning properly. Fix any drainage problems, check the grade around your home, and raise settled areas to drain away from your home.
THE TAKE AWAY: Potential buyers judge your home from the outside first. Grab their attention with outstanding curb appeal.