Having a fire pit or outdoor fireplace can be a great feature to have for the winter season in Iowa. They let you enjoy the beautiful weather without completely freezing through!
When it comes to factors like cost, style, and overall maintenance, both options have their advantages and disadvantages. The choice ultimately comes down to which hardscape best meets your needs and personal preference.
Here are some key points to keep in mind when deciding on whether you'd like a fire pit or fireplace constructed for your outdoor living space.
---
Fireplaces are significantly more expensive.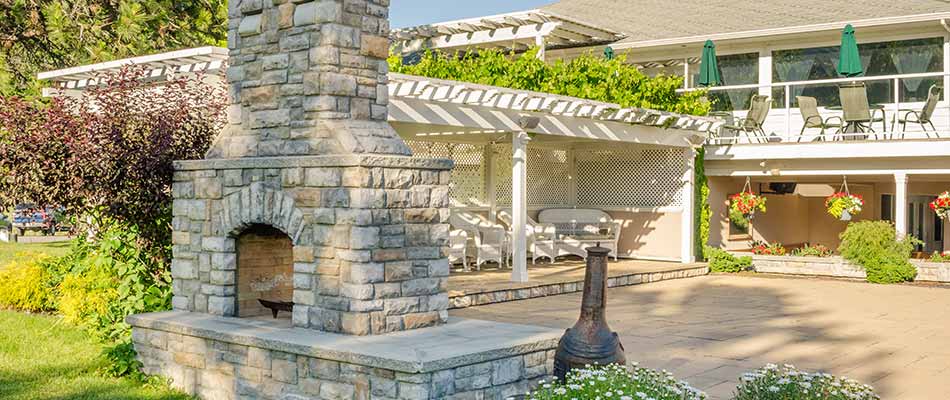 The most important factor for any type of construction project, indoors or out, is knowing your budget. Custom jobs can become expensive quickly, especially the more detailed and fancy your design gets.
Fire pits are definitely the cheaper option, ranging between $400-$1500 at most, especially if it's being built using a kit. The price of an outdoor fireplace depends on the exact features you want with it.
Do you want it to be gas or wood-burning?
How large is your fire pit going to be?
What kind of building material will your fire pit be made from?
The more luxurious and unique your outdoor fireplace looks, the higher the final cost will be. According to HomeAdvisor, custom fireplaces can average out anywhere between $3,000 to $20,000, and sometimes higher! Constructing a fire pit involves less expensive materials, simpler structural design work, and lower labor costs.
---
Outdoor fire pits offer different style options.
While a fireplace can certainly have an extravagant design, fire pits are available in several different styles. The most common fire pits you see can be round, square, or rectangular. They can be built above or in-ground, or made to be portable! A popular style of fire pit is a table with a burner in the middle!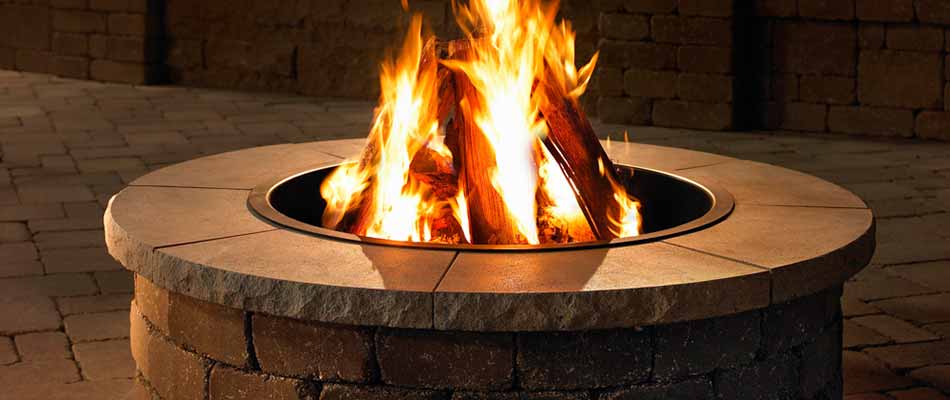 Outdoor fireplaces can only appear square in shape with a chimney and have to be built into the ground. It can still have a traditional or modern design, but this again is impacted by how much you're willing to spend.
Most outdoor fire pits and fireplaces are made from brick, stone, or stucco, but other material you can use include:
Masonry block
Concrete pavers
Metals
Decorative brick
---
Maintenance for outdoor fire pits and fireplaces are recommended once or twice a year.
Experts recommend having a professional service come out once or twice a year to ensure all components of your outdoor fire pit or fireplace are running properly, but both hardscapes can last you years with minimal maintenance!
The type of maintenance a fire pit or fireplace will need depends on the building material used to construct them. All debris, soot, and ashes should be removed and brushed out of wood-burning fire pits and fireplaces to prevent buildup. Any metal, stone, or masonry can be washed with a stiff-bristled brush, soap, and warm water.
Applying a coating of oil or silicone to a fireplace or fire pit made with metal is also highly recommended to keep it from rusting over.
Before cleaning or doing any kind of maintenance on a gas-fueled fireplace or fire pit, ALWAYS remember to turn the gas off first. Here are a few things to remember when servicing a gas-fueled outdoor fireplace or fire pit:
Inspect the exhaust fan to make sure it's working properly.
Check the ventilation system. If you notice an issue, call a professional to help fix the problem.
Use a soft cloth to clean the gas burners and a soft-bristle brush for the burner holes.
Clean any artificial logs at least once a month to remove soot and ash.
---
Contact a member of our team about our custom design process for outdoor fireplaces and fire pits!
Winter landscapes in Iowa are a beautiful sight to see, and now you can enjoy them to the fullest when you add a fireplace or fire pit to your outdoor living area! Our professionals at A+ Lawn & Landscape can create a customized design that matches the look and feel of the rest of your property.
If you'd like us to construct an outdoor fire feature for your property, and you're located in Des Moines, West Des Moines, or any of the surrounding areas, call us today at (515) 289-2020 to learn more about our custom design and installation process!