You have already invested time and resources this year to make your yard pleasing to the eye. Why should you let Japanese beetles, one of the most common summer pests, destroy your beautiful landscape? The short answer: You shouldn't!
Japanese beetles begin to infiltrate your lawn as larvae (also known as grubs) before shifting their attention to your plants, shrubs, and trees as full-grown bugs. By using a combination of preventative and curative beetle control treatments in June and July, you can save your lawn and landscape from unnecessary damage.
---
Japanese beetles start attacking your property as grubs.
Japanese beetles start terrorizing your property as grubs, or beetle larvae. Grubs are small and C-shaped, with an extraterrestrial-like head and small hairs lining their ridged, white outer shell. They can range from 1/8 to 1 inch in size.
Grubs live in the soil under your lawn, feed on its root system, and have the potential to kill your grass from the ground up. If you think might have grubs, commons signs include:
Patches of brown, dead grass
Grass that peels easily off the ground due to a weakened or destroyed root system
Multiple sightings of insects in your lawn that fit the grub description above
Increased animal activity in your yard. Grubs are a food source for small critters such as raccoons, skunks, and birds.
You are most likely to spot grubs toward the end of July and into August. Upon hatching, they begin their attack on your lawn and devour your root system one bite at a time.
---
Stop grubs before they become a problem.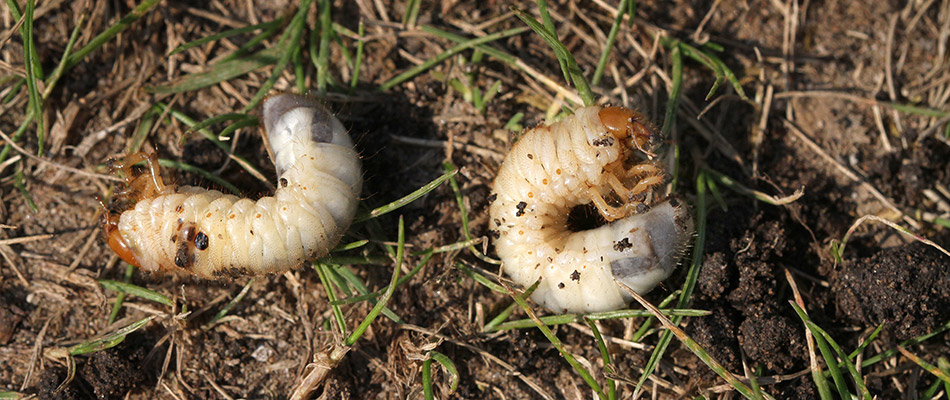 Fortunately, you can stop grubs before they become a problem on your property by using a preventative grub control treatment. Preventative grub control treatments proactively combat grub formation and ward off the potential damage these unwanted pests can cause. Treatments are applied in June or early July to protect your lawn before grub season begins.
If you do not choose to have your lawn treated with preventative grub control, you can always resort to curative grub control later in the summer once you notice signs of grub damage. Curative treatments limit the harm done to your grass by eradicating grubs from the soil but do not fix the damage that has already been inflicted.
For the health and well-being of your lawn, we highly recommend treating grubs before they become a problem by applying preventative grub control.
---
Grubs become plant-eating Japanese beetles.
Once grubs mature from their larval state, they shift their target from your lawn and become plant-eating Japanese beetles. These beetles are an invasive species in the United States and they feast on over 300 different plants. You've probably seen Japanese beetles in your landscape bed before. They have copper-colored wings with shiny heads and bodies that are a blend of blue, green, and purple. As far as size goes, they typically measure between 1/3 to 1/2 an inch.
Japanese beetles leave a path of destruction that is as noticeable as their appearance. They devour the leaves of shrubs, plants, and small trees but don't consume the stems or veins. What's left is merely a skeleton of a healthy leaf. While Japanese beetles primarily attack leaves, they also eat flowers and fruit. You are most likely to spot them on your property in late June to mid-July when they lay eggs that become grubs later in the summer.
---
How to Save Your Landscape from Japanese Beetles
You can save your landscape from Japanese beetles by using both preventative and curative treatment methods. Applying preventative beetle control treatment to your plants, shrubs, and trees will discourage these unwanted guests from destroying your foliage and minimize their impact. It is also advisable to apply curative beetle control treatment to eliminate any pests that manage to survive the preventative treatment. These treatments are applied in June and July in alignment with the beetle season.
---
We can protect your lawn from grubs and Japanese beetles!
At A+ Lawn & Landscape, we can protect your lawn from Japanese beetles no matter if they are grubs or full-grown beetles! Believe us, you do not want these pests to infiltrate your lawn and landscape this summer. They won't with our help. If you live in Des Moines, West Des Moines, Ankeny, IA, or a nearby area, call us today at (515) 289-2020 to schedule a consultation. We will devise a plan to safeguard your grass, plants, shrubs, and trees.