Many people love outdoor holiday decorations, but the installation and setup can take a lot of time and effort, especially if you have a larger property. You also risk slipping and falling or even injuries from electricity when trying to hang your holiday lighting by yourself.
These issues are eliminated when you hire a professional holiday lighting service! Here at A+ Lawn & Landscape, we will design, install, remove, and store your holiday lighting to save you the hassle and give you more time to spend indoors with your family and friends! We work with residential and commercial clients throughout central Iowa, located in Des Moines, West Des Moines, Ankeny, and more.
Here are just a handful of benefits that come when you choose to hire a professional for your holiday lighting and outdoor decorating.
---
Custom designs are created using professional-grade holiday lighting.
Buying holiday lights from a big box store might be easy and convenient, but not all of them are high-quality. Most homeowners end up replacing their lights every one or two years because of their limited lifespan.
A professional service will use only the best and brightest holiday lights to help the outside of your home look like a winter wonderland! Professional-grade lights will last for years and aren't something the average homeowner can buy in a store. Plus, with a custom design, you can be sure your house is the standout among the block!
---
You avoid getting injured while trying to string your holiday lights.
The CDC reported that in 2017 there were over 14,000 injuries (about 240 per day) connected to winter holiday decorating! Other studies found how many people listed a ladder or stepladder were almost always involved during the accident. In fact, nearly 41% of all holiday decorating related injuries were slip-and-fall related.
No one should end up going to the ER just for trying to spread some holiday cheer. A professional holiday lighting service eliminates the risk to your safety, so you don't wind up spending the holiday season in a hospital. Our team at A+ Lawn & Landscape is fully insured for holiday lighting services and knows how to safely hang your lights to avoid electric shock.
---
Maintenance issues are handled immediately without disrupting your holiday schedule.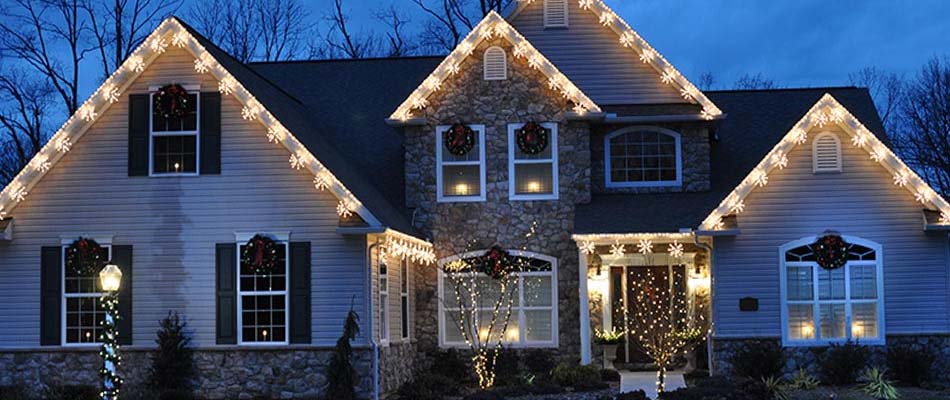 There's really no such thing as a non-busy holiday season. Shopping, family gatherings, and a hundred different holiday parties leave little room in your schedule to fix any problems with your holiday decorations.
A+ Lawn & Landscape can ensure your lighting and outdoor decorations look great throughout the holidays! Are there several faulty bulbs that need replacing? Did a recent snowstorm shake up your outdoor display? Our team will take care of all these maintenance issues so you can save yourself the headache!
Our holiday lighting service includes both the install and take down of your holiday lighting. We also store the lights with us, providing you with more free space in your home or garage!
Leave the decorating to the pros by scheduling your holiday lighting service with A+ Lawn & Landscape!
Hiring a professional for your holiday lighting this season is a no-brainer! With A+ Lawn & Landscape, you get professional-level products, top-notch safety, and no additional maintenance for you! We can help homeowners and businesses across Des Moines, Ankeny, West Des Moines, and nearby cities in central Iowa with all of their outdoor decorating. Call us at (515) 289-2020 to schedule your holiday lighting installation today!