It's disconcerting to walk outside to look at your plants and shrubs and see their leaves looking spotty or see entire tree branches dying off. When plant disease strikes, it's not easy to stop it unless it's caught early through proactive practices like routine trimming and inspections.
In central Iowa, there are many types of common plant diseases that we see throughout the areas of Des Moines, West Des Moines, and Ankeny. Here are some of those diseases and what can be done to prevent them from overtaking your lawn and landscaping.
---
Oak Wilt Signs Include Leaf Discoloration, Wilt, & Death
Oak wilt spreads in spring and can kill an oak within a few weeks, especially red oaks. The first signs of this disease are wilted leaves and leaves falling from the tree. This disease is caused by sap-feeding beetles who pick it up from one oak and take it to another, and it can also spread underground from root systems intertwining.
The best way to try to prevent oak wilt is to not cut any part of the tree during its growing season, which is typically from April to August.
---
Pine Needles Wilting & Browning May Indicate Pine Wilt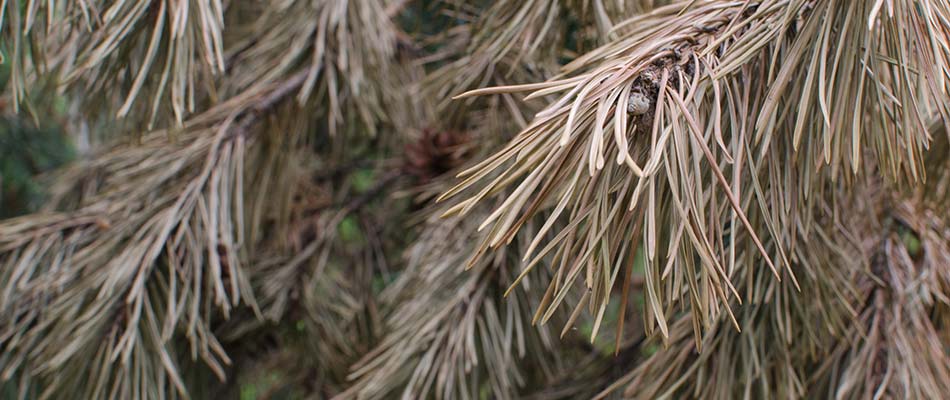 If you notice needles on your pine trees starting to wilt and turn brown, then that's a good indicator that your pines may have caught pine wilt. Pine wilt acts quickly, with rapid wilting and death of the tree. The disease is spread by beetles that bore under the bark of infected trees and then move to other trees.
If you suspect your trees have pine wilt, don't prune or cut into any nearby trees. The beetles are attracted to fresh cuts in a tree and will gravitate toward them. The infected trees will also need to be removed and destroyed to stop further spreading, but that's best done in winter when those beetles are not active.
---
Fire Blight Affects Apple, Pear, Crabapple, & More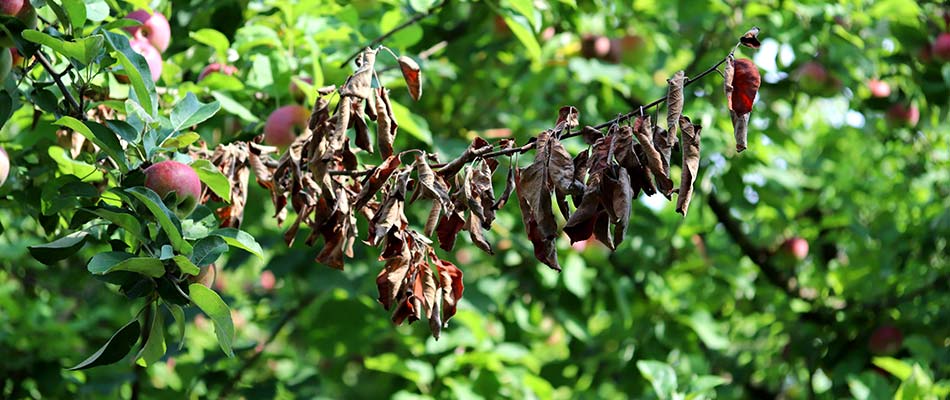 Fire blight is a disease that typically occurs in spring. It affects apple trees, pear trees, crabapple trees, hawthorn, and other related species. The first signs of this disease are leaves and branches wilting and turning black—looking as though fire has burned them. The plant will also develop areas of discolored bark, referred to as cankers.
This bacteria is spread through bugs, wind, and rain so it's best to act quickly when it's spotted. Removing infected branches during the winter is the recommended course of action. It can also be treated with certain fungicides.
---
Girdling Root System Restricts Movement of Water, Nutrients
When trees aren't properly planted, then the roots can become girdled. These roots grow in a way that cuts into the trunk of the tree and restricts movement of both water and nutrients to the tree. This causes the tree trunk to weaken and eventually die within 5-15 years. These should be treated when they are noticed, as they will cause irreparable damage to the plant.
Preventing this from happening involves using proper planting techniques such as digging the right size hole. Trained professionals can remove these roots in order to ensure the tree continues to grow correctly.
---
Do you suspect your trees or plants have any of these common diseases?
At A+ Lawn & Landscape, we have staff trained to identify and control the issues caused by these common diseases. If you are a homeowner or business owner located in the greater Des Moines area, including West Des Moines, Ankeny, or others, then we can help. Give us a call at (515) 289-2020 today so we can begin creating a treatment plan!