A great way to bolster the aesthetic of your property is by adding a water feature to your outdoor living space. The right water feature can truly carve out your slice of paradise by creating a tranquil environment for you to escape to now and then. Water features will naturally augment your curb appeal and will also make a lasting impression on your guests. There are 6 common types to choose from and they include water gardens, koi ponds, streams, waterfalls, bubbling rocks, and fountains. Any of these hardscapes can perfectly capture your unique style, while also adding a sense of peace and beauty to your outdoor space.
---
Enhance your outdoor living space with a koi pond, a fountain, a waterfall, and more.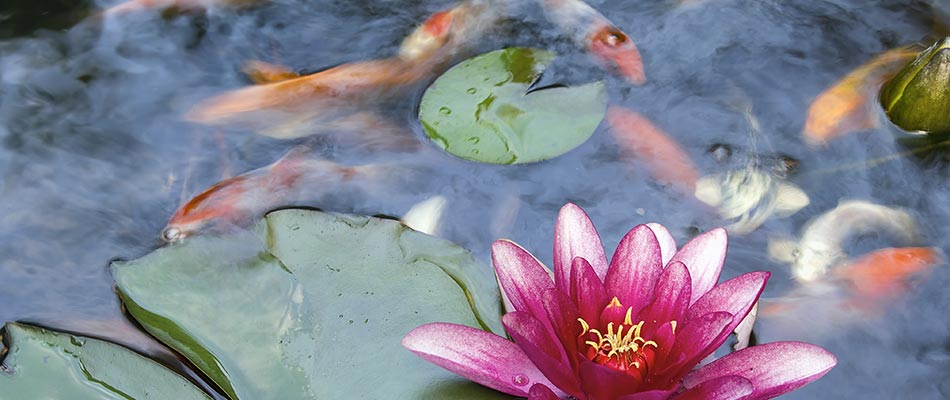 If you're thinking of transforming your outdoor space with a water feature, you can't go wrong! All water features offer something special and can be customized to suit the size of your space and the aesthetic you're aiming to create. Any water feature that you choose to install is sure to enhance your landscape - it's all in deciding which one is right for you.
Here are 6 options to consider:
Water Gardens - Water gardens are a great way to showcase aquatic plant life and they can be installed as big or as small as you'd like. A pond can be hollowed out to create a larger water garden. However, if you don't have the space, don't sweat it. A tub can also be used to create a smaller, yet equally elegant water feature.
Koi Ponds - Koi ponds are a wonderful way to integrate nature and wildlife into your landscape. All you need is the right amount of space for one to be installed. They provide a way for you to enjoy aquatic life at your home while also bringing a mix of culture and beauty to the space. A koi pond can be a distinguished way to upgrade your property.
Streams - Streams are another great choice to bring a glimpse of nature and tranquility to your landscape. They are a therapeutic water feature that can instantly uplift your mood and spark peace. Keep in mind that these features require a lot of space to start construction, but they are well worth it if you're considering the investment.
Waterfalls - Waterfalls are a flexible way to add serenity and beauty to your property. There are so many ways they can refresh your outdoor living space. Whether you opt to upgrade your pool with one or have one installed as a standalone feature, a waterfall is a mesmerizing way to beautify your landscape.
Bubbling Rocks - A traditional way to add water to your property is by installing bubbling rocks. They come in a variety of types and are usually encased by a bed of rocks or natural stones. You don't need a whole lot of space to include them on your property and they are one of the most versatile water features you can choose.
Fountains - The sizes of fountains can vary to fit your needs, so they are a great addition to virtually any space. Fountains will add calming presence and sound to your outdoor living space and they are incredibly customizable in size and design. They are sure to suit the unique style of any property.
When deciding which water feature to choose, it is important to consider the size of your property, your budget, and the overall aesthetic that you are looking for!
---
Are you ready to install a water feature in your outdoor living space? Call us today to get started.
Choosing a water feature for your outdoor living space is an exciting task. At A+ Lawn & Landscape, we design and install custom water features for residents in and around Des Moines, West Des Moines, Ankeny, and other areas in Iowa. If you're ready to get started, we can help! Call us today at (515) 289-2020 to schedule your consultation.