Nothing adds more beauty and dimension to a landscape than outdoor lighting systems. The right professional lighting technique can create interesting shadows and images of the outdoor features they highlight.
Illuminating your landscape at night is a common trend for most homes and businesses in Des Moines, West Des Moines, Ankeny, and surrounding cities in Iowa who want to accentuate their outdoor space. These five outdoor lighting techniques are used most often and each adds its own flair when set up in the right area.
---
Uplighting is a popular technique for showing off a plant's shape and foliage.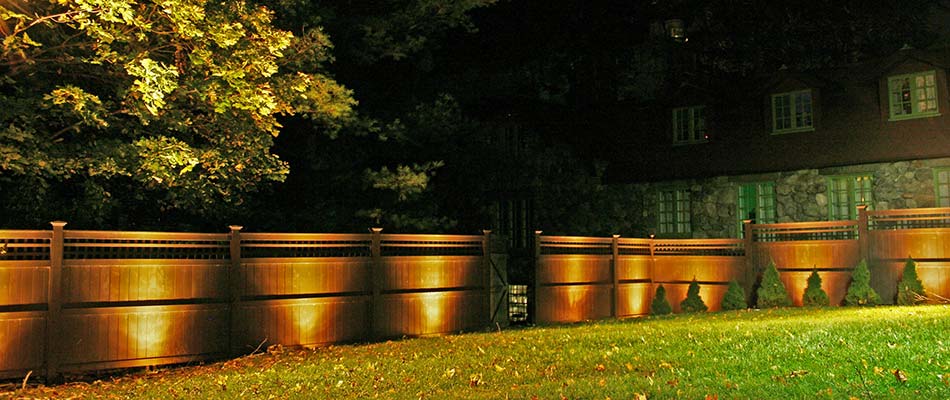 One of the more basic and widely used lighting techniques is uplighting. It's often used to show off taller hardscape structures or plants. They're great for trees with unique looking trunks and sprawling foliage.
The lights are mounted at ground level and placed facing upwards so the light shines through the tree branches or directly at your exterior property. There are also inground outdoor lighting systems that can be installed so it doesn't stand out as much and blends in with the landscape more seamlessly.
---
Spotlighting highlights your favorite focal point or landscape feature.
Also known as accent lighting, spotlighting highlights a particular item hidden in your garden or other dark areas of your property. This lighting technique is meant to draw attention to special landscape focal points like water features, sculptures, flags, and other architectural hardscapes.
Spotlights can be angled up, down, or crossed depending on how you'd like to accentuate your outdoor landscape. You could also use a narrower light beam to add more subtlety and ambiance.
---
Silhouetting creates dramatic shapes that create an interesting night-time display.
Silhouette lighting is often confused with shadowing, but the way these techniques work is different. Silhouetting completely outlines the object you want to highlight so you can better see the structure and design of the object.
Lights are placed behind the object towards the bottom so the light casts directly against the adjacent wall. The illuminated backdrop creates a silhouette effect. These dark outlines of the lighting subject add an interesting night time display that can look especially beautiful at the twilight hour.
---
Path lighting illuminates walkways, curbside flowers, and ornamental grasses.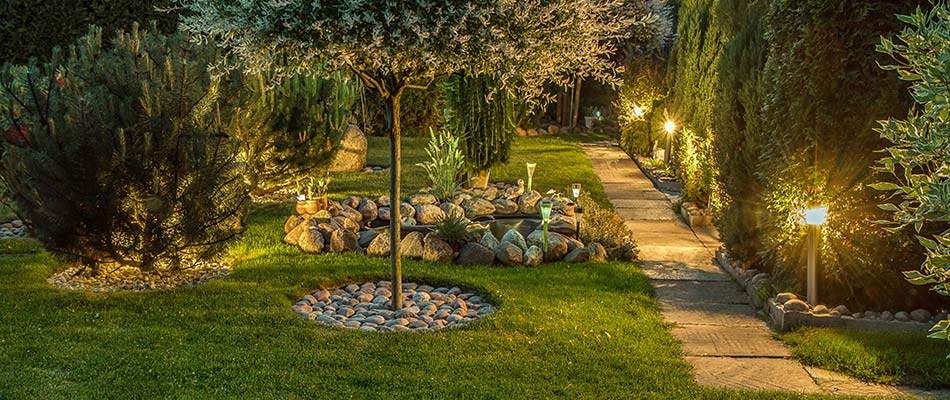 Pathway lights come in a variety of shapes, styles, and sizes. It's not just good for beautiful aesthetics, it also adds a safety element to your landscape. It can be dangerous walking along a walkway or driveway that isn't properly illuminated. You or someone you know could wind up getting hurt or tripping and falling over while stumbling about in the dark.
Path lighting also draws attention to curbside flowers and ornamental grasses that are used to decorate the walkways and different paths leading up to your property. Placement is key with path lighting. It's a good idea to have in mind the number of outdoor lights you'll need. Over lighting an area will make it feel cramped. You also want to make sure they aren't placed in a spot where they can get easily kicked over.
---
Shadow lighting produces artistic and intricate designs that cast across your walkways and landscape.
Shadowing is an outdoor lighting technique similar to silhouetting, but it creates a softer and less intense shadow design. The lights are put in front of the structure at the base and aimed at an adjacent wall or another flat surface.
Trees and plants with delicate foliage can benefit most from this kind of outdoor lighting technique. Having the branches blown by the wind makes for an intriguing and elegant shadow effect. Almost like the shadows are dancing along the walls of your property!
---
Enhance your professional lighting techniques by installing an LED outdoor lighting system!
Outdoor lights come in all kinds of styles and shapes so they can match with any landscape design or outdoor decorum. Our LED lighting systems provide you with an energy-efficient way of illuminating the best features of your landscape and property architecture.
Call our team today at (515) 289-2020 to receive a quote! We install outdoor lighting for properties located near Central Iowa, including in Des Moines, West Des Moines, Ankeny, and more.