Dandelions, white clovers, creeping Charlies, and black medics are all invasive weed species in Iowa that tend to show up to bloom in spring. Once established on your lawn, they each can become a nuisance and can be rather difficult to get rid of as they disperse their seeds and continue to spread. Whenever dealing with one or more of these invasive species, it's best to contact a professional to eliminate them from your lawn!
---
1. Dandelions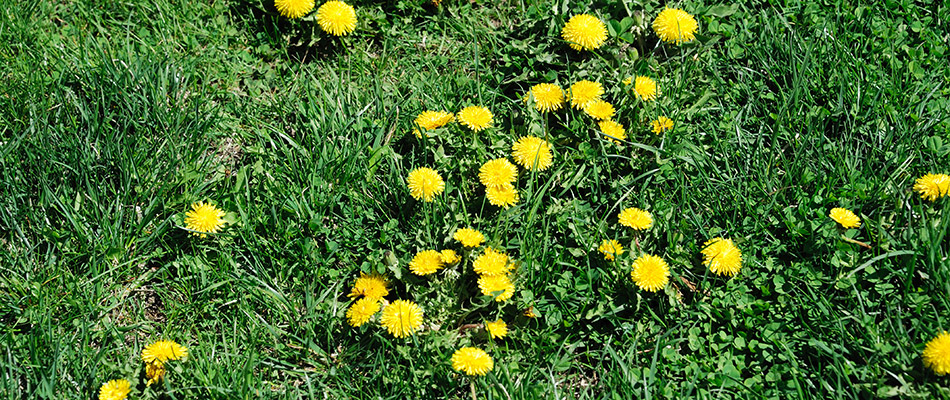 The first spring lawn weed you should keep an eye out for is the dandelion. Dandelions can be easy to spot given their distinct yellow disc-shaped flowers blooming in the spring, and they can be very persistent once they have established themselves on your turf. They are classified as perennial weeds, meaning they tend to start growing and flowering in the spring. Dandelions spread and reproduce by dispersing their seeds via the wind, making them able to overtake lawns with ease. They usually produce many new plants throughout the year, so it's best to apply pre-emergent control before dandelions have a chance to germinate in the spring. However, post-emergent weed control can also be applied to these weeds to eliminate existing infestations.
---
2. White Clover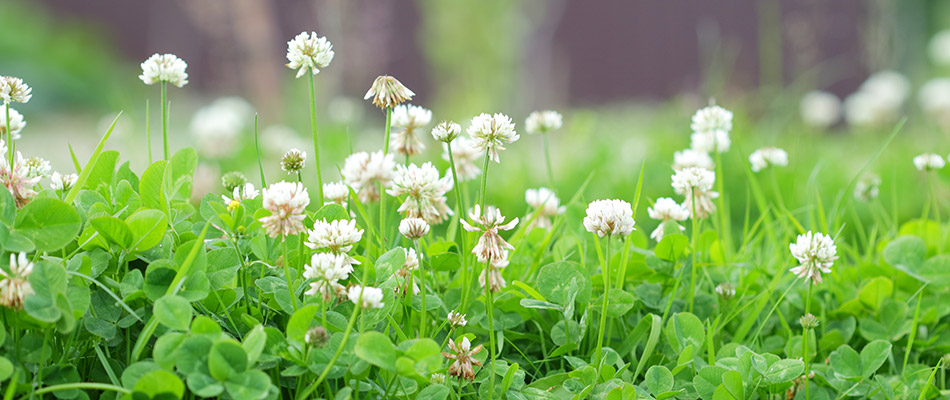 White clover is another perennial weed that tends to show itself in late spring and early summer. White clovers are comprised of three leaflets and can be identified by the twenty to forty white or pinkish flowers blooming on top of it. This species of weed is also very invasive as they produce thousands of seeds and can disperse them quite easily. White clovers tend to thrive in cool, moist soils. When considering weed control treatment, it's best to start administering pre-emergent treatment early in the spring before they have a chance to germinate and bloom to effectively control this invasive weed. However, applying post-emergent control during its active growth period is another way to deal with white clover, but it may take a few applications of the treatment before the white clover is gone.
---
3. Creeping Charlie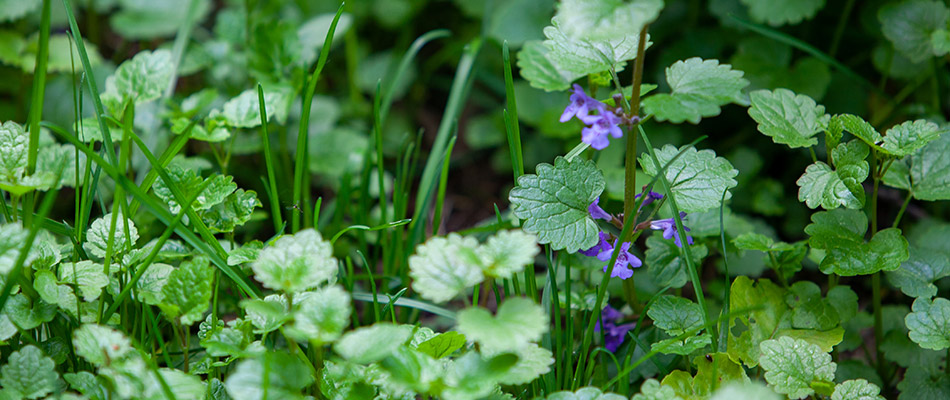 Creeping Charlie is yet another perennial plant that begins flowering in late spring and early summer. This invasive species can be identified by the bright green, round-shaped leaves with their scalloped edges. In spring, you'll notice them growing small, violet funnel-shaped flowers. Creeping Charlie tends to thrive in moist, shady areas and will invade thinning turf. Applying pre-emergent treatment early in the spring is the most effective way to control creeping Charlie, but post-emergent treatment can also be applied later in the spring if they already started to bloom. Post-emergent treatment should be timed with a creeping Charlie's blooming period which is typically from April to June.
---
4. Black Medic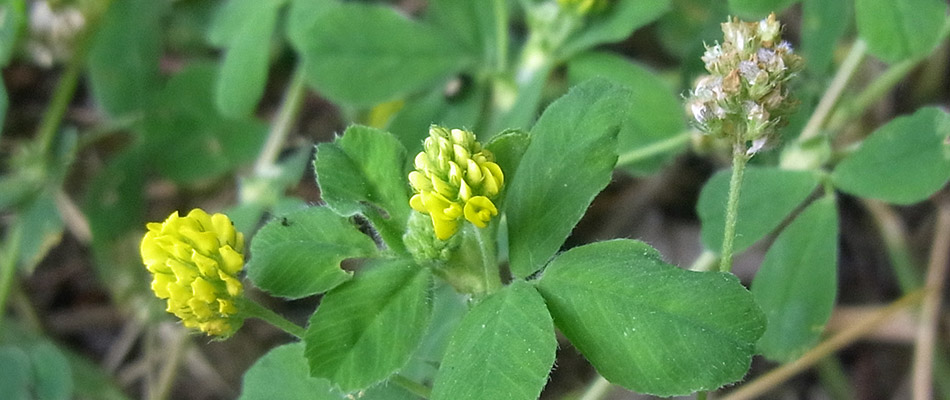 Black medic is a summer annual broadleaf with small, yellow clusters of flowers. This weed begins producing its compressed clusters of yellow flowers as early as spring. When this species fully matures, the pods will become a cluster of black fruit, which is where it gets the name "black medic." Black medic is typically found in sunny areas in soil with low nitrogen levels or areas with compacted soil. What makes black medic so persistent is that it can produce seeds that can remain in your soil for years, making it crucial to control this weed before flowering begins and the seeds set in your soil. You want to administer weed control treatments in early spring when the black medic is young and actively growing.
Following good lawn care practices such as mowing your lawn to the right height and properly fertilizing your lawn can help reduce the weed population.
---
Call us to deal with these troublesome spring weeds. Sign up for our professional weed control service!
Even with the proper lawn care and maintenance, these four spring lawn weeds can be a real pain to deal with in Iowa. At A+ Lawn & Landscape, we use a combination of pre-emergent and post-emergent weed control treatments to keep your lawn protected. We service both commercial and residential properties in Des Moines, IA, as well as nearby areas like West Des Moines and Ankeny. Call us at (515) 289-2020 to sign up for our professional weed control service, and we can help protect your lawn from any of these troublesome spring weeds!