When winter weather hits and the snow begins to fall, it can present a very pretty picture—until you realize you have to now walk outside to your car and try not to slip or fall on icy sidewalks, walkways, or driveways.
There are many reasons to consider scheduling snow removal services for your home in Des Moines, West Des Moines, Ankeny, and surrounding central Iowa areas. Safety is a big one, but there are others as well.
---
1. Winter Weather Typically Lasts from November to April
In our area of central Iowa, we can see snowfall for almost half of the year, starting in November and ending sometime around April. That means there will be many mornings where you walk out to see snowy or icy walkways at your home. Scheduling routine snow removal services means that you don't have to worry about potential obstacles in getting to your car in the morning before heading to work.
It also means there's less danger of you being exposed to the cold weather. When you're outside in the cold for long periods of time, only using a shovel to clear your walkways, driveways, and more, then you have a danger of developing hypothermia.
2. Reduce Health Risks, Slips, & Falls on Your Property Due to Icy or Snowy Weather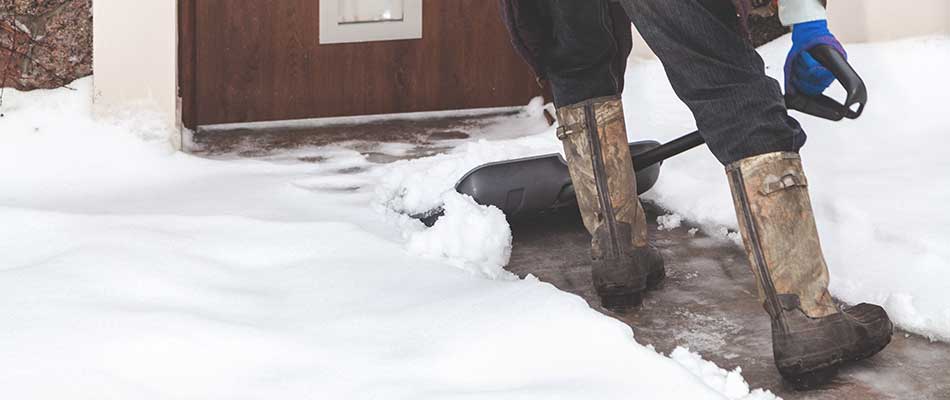 According to the National Safety Council, snow removal and snow shoveling account for thousands of injuries and around 100 deaths each year. When people who are not used to the physical toll of shoveling snow get out into the cold weather and try to remove the snow, they can experience an increase in heart rate and blood pressure. This can lead to blood clots and constricted arteries even in healthy people.
If you have a history of heart problems or a serious heart condition, check with your doctor before attempting to shovel snow. Your doctor may recommend that you hire someone to help.
The main injuries incurred while shoveling snow are due to slips and falls, which can cause bone breaks and fractures as well as strained muscles, tendons, or ligaments. Lower back injuries can also be an issue, as people improperly lift the snow instead of pushing it out of the way.
3. Professionals Protect Your Hardscapes with Proper Equipment
When improper equipment is used to shovel snow or remove snow, there is a greater risk of scratching the hardscapes beneath. This isn't something any homeowner wants to see, especially if they made a large investment in a custom patio or driveway. A professional crew can come to your property, assess the situation and then decide which snow removal tools to use so they avoid damaging or scraping your sidewalks, driveways, decks, or walkways.
At A+ Lawn & Landscape, our snow removal team has a number of tools at their disposal such as shovels, snow blowers, truck plows, and more.
We also provide ice melt delivery in 12-pound and 50-pound bags so you can be prepared for icy weather.
---
Do you need snow removal services for your central Iowa home?
We provide professional snow removal services for homes in Des Moines, West Des Moines, Ankeny, and other central Iowa areas. Our crew is trained in effective snow removal techniques and can quickly clear your sidewalks and driveways so you can get out to work, school, or other obligations. Don't let winter weather stop you in your tracks! Contact us today at (515) 289-2020 so we can add your residence to our snow removal schedule.