One of the questions that come to mind when choosing to build/install a new patio is often cost. This is determined by the size, materials, location, and any other elements you choose to add. Because of this, costs can vary dramatically. Depending on your personal style and desired laying pattern, your budget may need to be adjusted. We've included a list of common materials that are used for patio installations as well as the pros, cons, and price for each.
Explore the approximate costs of materials for your custom patio in Des Moines, West Des Moines, and nearby areas of Iowa.
---
What does the patio cost actually include?
Costs do not include demolition, prep work, and any additional items (like fire pits and retaining walls) you may want to add to the patio, etc. These are approximate costs only and can change due to material price fluctuations. Each material can range significantly.
---
Common Patio Materials
Let's take a look at some of the most popular patio materials:
Concrete Pavers
Pavers vary in design, shape, material, and color, so the price range can vary significantly. Concrete pavers won't set you back as much as some other materials. Expect to pay an average of $10-18 per square foot with installation.
Brick
Brick is a traditional construction material, and your color options go well beyond the stereotypical red (though that's a classic look!), and can look like this.
Machine molded bricks are on the cheaper side while handmade and permeable bricks can increase the price. Investing in permeable bricks means water can flow freely into the ground and reduce runoff.
Brick averages $10-$20 per square foot.
Flagstone
Flagstone, like pavers, can vary in terms of cost and style. While the material costs may appear similar to pavers and brick, that's not going to be the only cost factor. Flagstone installation requires a little more work, and that will add to your costs significantly compared to brick and pavers.
Limestone
Limestone costs $14-$28 a square foot, including installation. There are a variety of choices as far as colors, and the price will depend on where the stone was quarried. Price generally leans towards the more expensive side. Beware cheap limestone—there may be a lower sticker price, but the quality is often lacking.
Travertine
We love travertine! It's very durable and stands the test of time. It's also extremely dense and can withstand the cold in Iowa. Plus, it's stain-resistant! $13-$30 a square foot with labor.
Sandstone
Sandstone averages $11-30 a square foot with labor. The material displays a natural wavy look due to the free-flowing minerals in the stone. We love it as a patio material because It's slip-resistant and doesn't require sealing unless you want a gloss/semi-gloss look. The cost will increase for services like this.
Slate
Slate is durable, waterproof, and stain-resistant, and it's often used for walkways as well. Slate can potentially get pricey, averaging $18 - $45+ per square foot with labor.
---
Patio installations are usually paired with other services.
When someone wants to have a patio installation installed on their property, they usually are looking to revamp their entire outdoor area. There are a plethora of other outdoor services to choose from to really enhance your outdoor living area!
These are common add-on services to patio installations: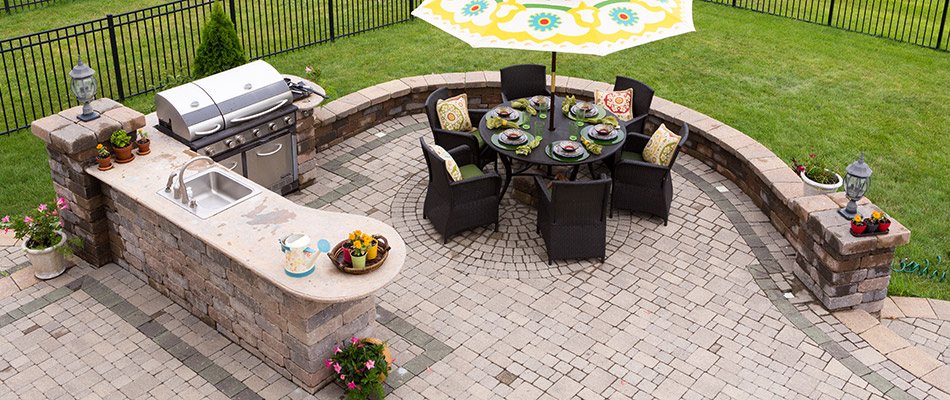 ---
Ready to install your patio? Schedule a consultation today!
As you can tell, it's hard to nail down the cost of a patio without an actual quote. Due to the variety of materials to choose from, the cost can greatly vary. Our company only uses professional-grade stone, brick, and pavers for client patios.
Call (515) 289-2020 today to receive a quote for a patio installation in for your Des Moines, West Des Moines, or Ankeny, IA property!